Based on the Billy Wilder Film
Orchestrations by David Cullen & Andrew Lloyd Webber
Original Production by The Really Useful Company Ltd
The Really Useful Company Ltd gratefully acknowledges the role of Amy Powers in the lyric development of 'Sunset Boulevard'An amateur performance by arrangement The Really Useful Group 
We hope you enjoy this selection of photos, reviews and other memorabilia from our show archive.  If you want more information about any of our past shows, please feel free to get in touch.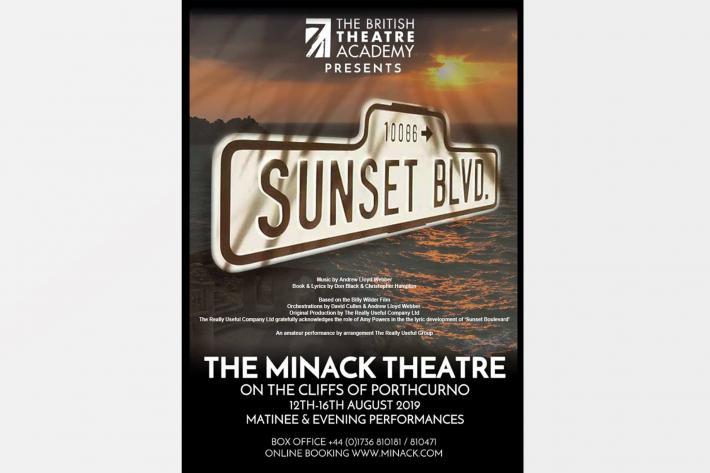 Review by Jenni Balow
The title has a glow, this is a multi-award winning musical by Lloyd Webber, and Glenn Close is about to star in a new Sunset Boulevard film, so it has a lot going for it.
Couple all these positives with the fact that the British Theatre Academy has presented a scintillating series of its own trophy winning sell-out shows at the Minack over the last seven seasons, and you would expect something pretty special.
Yes, it was good, and in component parts it was very well acted and staged, but it didn't have the impact I expected, either theatrically or emotionally, for such a powerful and painful story.
To be fair, this damp August hardly helped the cast, and after a downpour just before the start and during the interval on the opening night, with more to come during the week, the monotone set and costumes, became part of the gloom.
The idea was right. This is Hollywood in 1949, so the giant film screen on an otherwise bare stage, displayed a black and white image of Miss Norma Desmond at the height of her fame as 'the greatest star of all' – something like 40 years earlier.
Sadly, the star has faded and what we see now is a woman who cannot come to terms with that fact, especially when her loyal 'servant' sends fan letters to prop up her belief that she should play the role of the teenage Salome in a script she is writing for herself.
She memorably declares: "I am big, it's the pictures that got small".
It is not going to end well, but the inevitable disappointment and her decline is delayed by the unexpected arrival of a younger scriptwriter, Joe Gillis, who is struggling to find work, and is deeply in debt. Opportunity knocks and he consents to help edit her work for a few dollars more.
There are strings attached, of course, and as she takes possession of all that he can offer, he finds himself effortlessly drawn to a lovely young studio scriptwriter who likes his work, and is, incidentally, his best mate's girlfriend.
Guess what, this scenario is not going to get any better, in fact, the impeccably turned-out Miss Desmond is in for a cruel and misunderstood encounter with film director CecilB. DeMille and his acolytes at the Paramount Studios, despite plenty of pampering on the massage table.
The directors are BTA founder Matthew Chandler and well-travelled actor Rachel Izen, who met 23 years ago at the wedding of another experienced actor, Tracy Collier, who gives a genuine, draining and heart-wrenching performance as Miss Desmond. This is the first time they have all worked together.
Philip Doyle acted and sang marvellously as Joe, but surely a younger actor was needed to pair with sweet-voiced Sophie-Rose Jackson who played the 22-year-old Betty. James Turnbull was magnificent as the ever-correct and protective servant Max, with Martin Wilcox as DeMille and Carl Gamage as Artie.
Music director Will Sharma devised the live soundtrack, with sound designers Matt and Scott Watters, set and costumes by Gregor Donnelly and Matty Chanzy, and lighting by Simon Hutchings, enhancing a street no actress should linger on for too long….