We hope you enjoy this selection of photos, reviews and other memorabilia from our show archive.  If you want more information about any of our past shows, please feel free to get in touch.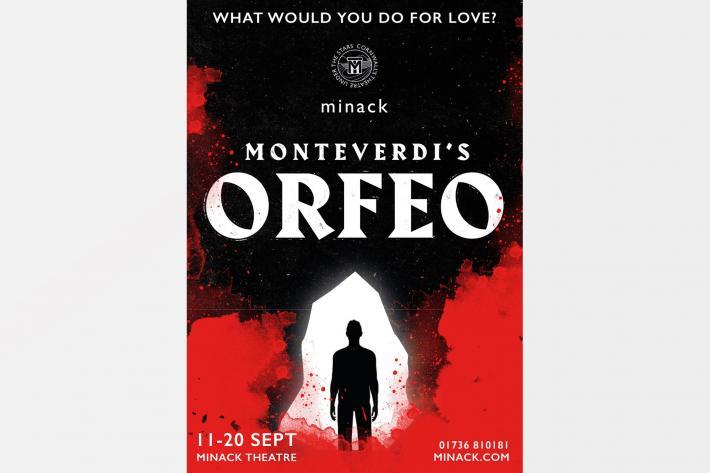 Review by Jenni Balow
Oh, Orpheus, if only you had let your bride lead you out of the Underworld, all would have been well, and we would have had one less Greek tragedy on our hands.
There again, Monteverdi would not have been inspired to write this very early beautiful Baroque opera, way back in 1607, without that one fateful mistake by Orpheus, as he glanced back, to make sure that Eurydice was still following him.
In so doing, Orpheus broke the one rule made by the King of the Underworld when he set Eurydice free to return to the living world - do not look back.
But the anxious Orpheus did just that, according to Ovid and Virgil, and one of the best-known of the Greek legends was born.
This is the first time Minack actor and storyteller John Brolly has directed an opera, but we all knew he would pull it off, and he has, with a fresh, straightforward approach to relating this classical tale, that is a total delight.
He already has a big affectionate fan club of both children and adults who have loved his recent school holiday productions of Goodnight Mister Tom, The Railway Children, The Secret Garden, and The Lighthouse Keeper's Lunch.
He is backed by a tremendous production team headed by Zoe Curnow, with internationally known musical director Patrick Bailey, assisted by trombonist Matthew Harrison, and with Tim Dean sourcing a pedigree trio of soloists.
The tenor Xavier Hetherington, who spent his summer singing at Glyndebourne, is the besotted Orfeo, who all too briefly beds his bride Eurydice, played by the gorgeous Steffi Fashokun, who has, incidentally, just won a place with the National Youth Dance Company.
Xavier sings so clearly, so tenderly alongside the wonderful mezzo soprano Rose Stachniewska, and guitar playing pure-voiced bass baritone Andrew Slater.
Nymphs and shepherds in jeggings and crisp prints, with daisy garlands in their hair, dance to a joyful trumpet toccatta played by Harry Flint and George Stevens on soprano saxophone, and the two will later join to sadly play alongside Orfeo, as he despairingly sings "my soul has left my body" after his wife's sudden death.
All of the instrumentalists play in a scatter across the stage, with a fine, mournful mix of Mimi Irving's violin, with Lily Strevens on clarinet and Joe Millington, alto sax. The madrigal sounds of Patrick Bailey's harpsichord, with Danny Jones and Barbara Degener on cello, embellish this Baroque period piece.
Sharing roles as both singers, dancers and instrument players, is the name of the game for the young ensemble, aged from 12 years upwards, who confidently guard the Gates of Hades, or sway like reeds in the River Styx, stylishly stretched and dressed by choreographer Grace Murdoch and costume designer Marion Harrison, lit by Simon Hutchings.
This is a special production, light and fresh, yet true to ancient storytelling tradition.