We hope you enjoy this selection of photos, reviews and other memorabilia from our show archive.  If you want more information about any of our past shows, please feel free to get in touch.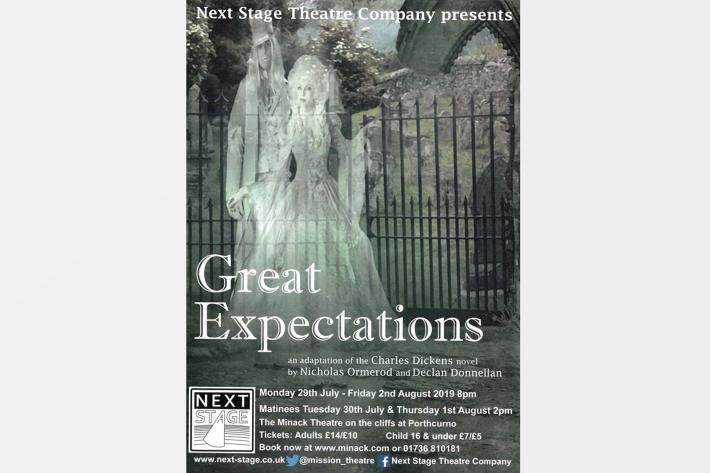 Review
Master Philip Pirrip, orphan and apprentice blacksmith, has great expectations when an anonymous benefactor suddenly changes the course of his life, giving him the chance to be and do all the things he thought were out of his reach.
This is early in the 19th century, and he's had a tough start, with no family apart from a harridan of an older sister who has reluctantly and cruelly raised him, and with no prospect of becoming the gentleman he wishes to be.
The boy named Pip, because Philip Pirrip was a bit of a mouthful for a youngster who lives in a bleak house on the misty north Kent coast. The only warmth in his life is the kindness of blacksmith Joe, his adoptive father.
But this life, apparently with no prospects, is full of surprises, both good and bad.
The Bath based Next Stage Theatre Company also encountered a few surprises, distinctly bad, on the opening night of their run at the Minack, when rapidly deepening low pressure hurled gale-force gusts and unremitting drenching rain at them.
They had taken the decision to remove their top hats for the performance, which stood no chance as the wind whipped-up the dark grey sea into an angry roaring swell, and made a nonsense of the 'mist' guns, designed to add a marsh-like atmosphere.
The elements won after a half-hour battle, and the show was called off.
Their voices must have been ragged after yelling above the raging of the storm, but the hats were back on and it was a case of hats off to them, as they and many of us returned the next day, to resume the tale so beguilingly written by Dickens.
Thank heaven it stayed largely dry for the rest of the week, because this is a two and a half hours long story, always a risky length in an outdoor setting, and demanding plenty from its audience.
But this lively adaptation, written for the Royal Shakespeare Company in 2005 by Nick Ormerod and Declan Donnellan, with its compelling first-person narrative as told by Pip and an attentive ensemble, also held our attention.
This touching account of a young man whose great expectations are met in part, but too sadly disappointed by an extraordinary history of events in both his past and present life, has been very surely interpreted by director and set designer Ann Ellison and a large cast.
How Dickens loves to entertain us with eccentric characters in both name and action, led by the strange and disturbing Miss Havisham, powerfully and disarmingly played by Barbara Ingledew, with the cold-hearted role of Estella shared perfectly by Georgi Bassil and Floss Ingledew.
The lawyer and his gesturing clerk, Reynold Leming and Brian Hudd, the kindly Joe, Dominic O'Connor, and his missus, Jane Lawson, Brian Fisher, a jumpy Magwitch with a mission, bad guys Martin Allsop as Compeyson and Mayur Bhatt as nasty Orlick, and dear, sweet disappointed Lydia Chalmers as Biddy, plus Will Greensides as Pocket, work so well.
And both young Pip, Freddie Stockton and his older self, Kristofer Rose, win our sympathy with their expressive expectations.
The whole production looks and sounds exactly right thanks to music and effects, including Cornwall Concerto composed by their actor Martin Allsop, research and presentation by Brian Howe and Ollie Scott, fights and dance by Nicky Wilkins and Hayley Fitton-Cook, lighting by Kris Nuttall and Bristol Costume Services.
With luck, they got all their top hats back to Bristol, no thanks to the weather!