We hope you enjoy this selection of photos, reviews and other memorabilia from our show archive.  If you want more information about any of our past shows, please feel free to get in touch.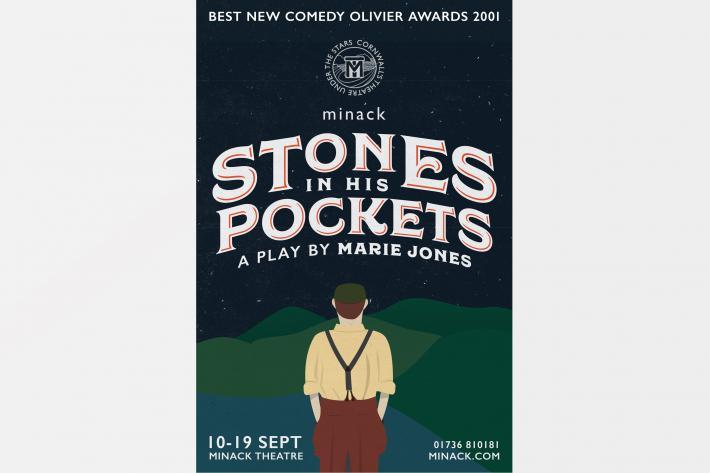 Review by Jenni Balow
Two into one does go, especially if you are a pair of brilliant actors that clearly relish the chance to share 15 different character parts, stay on stage throughout, and draw out both the laughter and tears that hallmark this clever Irish play.
Stones in His Pockets was an award winner from the off, first produced in Dublin in 1996, and going on to merit an Olivier prize for writer Marie Jones, for best new comedy.
One of Cornwall's favourite actors, Ben Kernow, who has already set us shaking with laughter in Miracle Theatre's production of A Perfect World, and earlier appeared at the Minack in The Secret Garden, was always going to be a good choice as Jake.
He is paired up with Stephen Cavanagh, who has just completed a tour of the UK and Ireland as understudy to Charlie  –  and is more than ready to take on the role.
Jake and Charlie are extras in a Hollywood film, Happy Valley, and their small town in County Kerry is the location.
It doesn't exactly carry the hype of a Tarantino production, but it comes close, with a glamourous star, Caroline Giovanni, so the locals clamour to be part of the action for a handsome forty quid a day.
Charlie has written his own film script and sees an opportunity to sell it to the producer, and Jake is feeling disillusioned after failing to make his fortune in New York, so things look up when the lovely Caroline tells him she wants to sound just like him  –  only because she is desperate for him to give her coaching in a soft Irish accent, that will stick!
Now that is a good point, because both Ben and Stephen hold those Kerry accents without a wobble, between rapid role-switching to cover 13 other film crew and town characters, using American and English voices too.
There is little in the way of props, maybe just a pair of diamante ear-rings for Caroline, but Stephen doesn't need them to persuade us that he is she, with that sincere husky Californian purr, and a clipboard and tweak of the hips tells us that Ben's assistant director is gay.
The banter and strong language is very funny, but the drama of life in this Irish setting will eclipse the filming, when Jake's cousin Sean walks into the sea with his pockets filled with stones, after an incident in the pub.
Suddenly the extras meet with a ruthless response from the entirely self-engrossed production unit when they request a break in the over-running schedule, to pay their last respects to Sean.
As the Tinsel Town crew finds itself right up against the hard reality of Life – Charlie gets a new idea for a script  –  and that could be a winner , . . . or not.
The director is Hannah Chissick, designer Philip Witcomb put together a fine movie set with spotlights and costume boxes on a boarded platform, composer is Ben Sutcliffe, lighting designer and production manager, Simon Hutchings.