We hope you enjoy this selection of photos, reviews and other memorabilia from our show archive.  If you want more information about any of our past shows, please feel free to get in touch.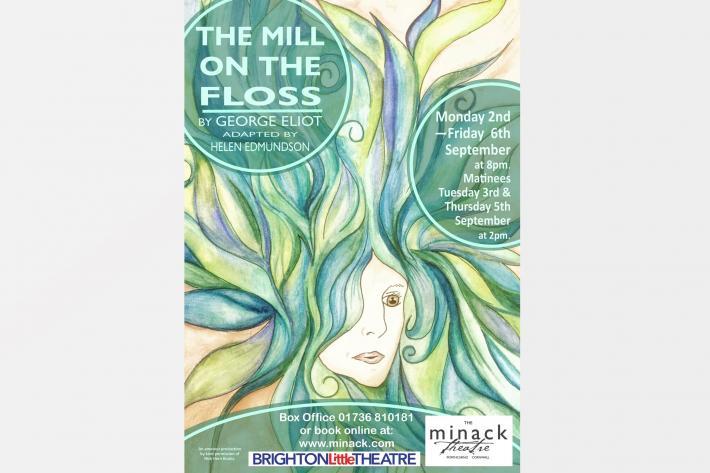 Review by Jenni Balow
Frustration floods the life of Maggie, a miller's daughter, whose exceptional intelligence is rarely recognised in the male-dominated society of Victorian England – goodness, that has a familiar ring to it, doesn't it!
That theme has been a feature of more than a few dramas over the years, and recently at the Minack, where the blue stocking would-be graduate girls of Girton College struggled for recognition too.
Novelist George Eliot, a woman in reality who used a man's name to get her work published, expressed her real-life frustrations through this Maggie, first seen as a lively nine-year-old, who is bursting with energy and inquiry.
She is adored by her indulgent father (Bill Griffiths), but her brother Tom (Nik Balfe) and his education is his real focus  –  even if the boy is indifferent to learning Latin and will never be a scholar.
This adaptation imaginatively uses three actresses to portray the phases of her development, plus a rag doll that shares her passion and anguish, alternately hugged or thrown to the ground in fury, as Maggie grows up.
The young Maggie (Naoise Wellings) is a free-thinking delight, the second (Keziah Israel) has seized on religion-based soul-searching, and the third (Mandy-Jane Jackson) is a young woman who will have to confront life-influencing decisions.
Director Claire Lewis, working with musical director and composer Michael James, has skillfully created a professional production that is believable, with dialect drummed-in by Judi Campbell, and dynamic sound and mill-wheel movement to underscore the drama.
It is set beside the Floss in Lincolnshire from 1829-39.  The river is depicted by water colour toned silky pennants that will be used to evoke its swirl and circling currents in a dramatic finale choreographed by Graham Brown with dance captain Frankie Knight.
Maggie's intelligence and her frustrations are recognised by the sweet singing Phillip, played with touching sensitivity by Alan Stewart. He has been born with a deforming limp, and has been rejected by society.
Alas, their love for one another is compromised by a business conflict between their fathers, and fate leads her in the direction of the smooth-talking Stephen (Robert Purchese) who is her cousin Lucy's (Lucy Mae Knight) intended. He might, ultimately, be bad news, but he too sings exquisitely in a duet alongside Philip.
The casting is strong and sure, with good, often amusing cameos from Ann Atkins, Glenys Harries-Rees, John Tolputt, Nick Roche, Helen Schluter and Ciaran O'Connor as the honourable Bob.
Professional soprano Ciru James leads the harmonious ensemble with a magnificent solo.
Set designer Michael Folkard has scattered sacks of freshly-milled flour around the stage, with lighting and sound design by Beverley Grover and Richard Lindfield, and perfect linking costumes for the three Maggies and the rest.
It flows, just like the River Floss.
Lynn Batten's photos of this production