We hope you enjoy this selection of photos, reviews and other memorabilia from our show archive.  If you want more information about any of our past shows, please feel free to get in touch.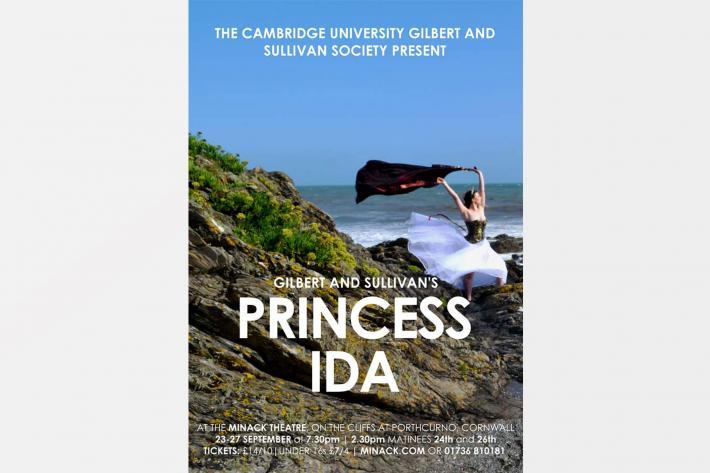 Review by Jenni Balow
Warrior women wearing armour and wielding nasty-looking heavy mallet weapons look more than ready for a battle of the sexes as they march to arms, regarded with some surprise, by a trio of tall blinking Viking brothers in horned helmets.
Hold on a moment, did the venerable Arthur Gilbert and WS Sullivan imagine that Princess Ida would want to be associated with such a feisty bunch of Valkyrie-type booted women, when they wrote this satirical comic opera for performance at the Savoy Theatre in 1884?
Perhaps not, but the Minack version has been entertainingly re-invented by director and costume designer Gwen Davis and her talented creative team, "taking a sword to the script" very literally, to present a fresh take on this rarely performed opera about an independently-minded princess.
She decides it is time to give women a university education. What's more, they rise at cockcrow  – provided by an "accomplished hen"!
This fun interpretation, deserves to be seen more widely, and that view is supported by musical director Simon Fraser and his on-stage orchestra, mercifully sheltered this week by heavy-duty canvas, who brings out the very best from a challenging score.
The cast of course, are all ardent G&S fans, with voices to match the demands of the piece, led by Anna Cooper as Princess Ida, with a lovely trio, Jonathan Whiting as Hilarion, Robert Nicholas as Florian and the elegant extrovert Jacob Taylor as Cyril.
Trailing a flowing and blowing golden cloak, Matthew Sargent leads the blinking bass-voiced Vikings, James Ward, Thomas Mullock and Ian Hills, and the voices of Poppy Robertson, Sylvie Hodgson Smith and Charlotte Horner, give us a sweet contrast.
Joshua Geddes makes a sound theatrical debut as Hildebrand, backed by the rest of the team, with set design by Emily Senior, with head carpenter George Bateman, lighting, Eduardo Strike, producers Alex Ridley and Lewis Scott and production managers Lily Burge and Matthew Latham.
The statement costumes, using vibrant red, silver and gold, were notably stripped off by the still-blinking Vikings towards the end of the show.
The solidity of the whole concept worked very well during a week that featured the final thunder and bluster of an expiring hurricane, bringing the main Minack season to an autumnal, but triumphant end.