We hope you enjoy this selection of photos, reviews and other memorabilia from our show archive.  If you want more information about any of our past shows, please feel free to get in touch.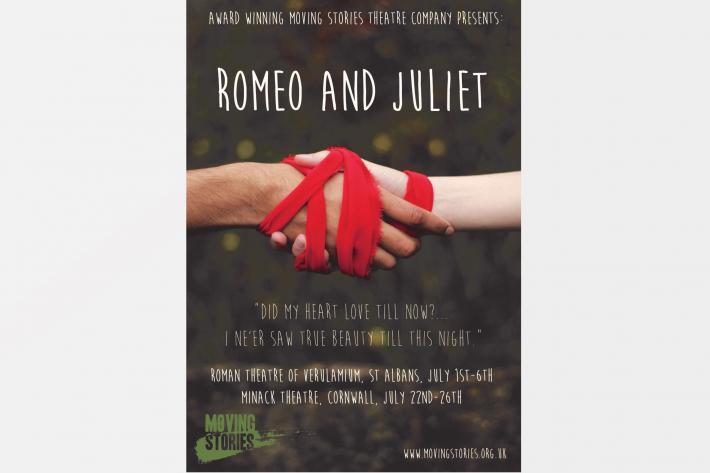 Review by Jenni Balow
Tragically, today's crime figures show that there is nothing new about rivals fighting one another, with consequences that ruin lives for years and years, and this energetic company shows us how fast the killing can escalate when flick-knives are used as weapons by hot-headed gangs.
This 21st century interpretation of a very old play directed by Emma Gersch clearly contrasts the joy of the young lovers, and then the terrible repercussions of choosing the 'wrong' partner from a family that has been perceived as 'the enemy' for whatever reason.
The action fizzes with vitality as the play opens on May Day and all is well with the world as the cast engages us with music and merry-making. Hay bales are scattered around and bunting flutters gaily in the breeze.
Then the dancing begins and Romeo Capulet locks eyes with the girl wearing pretty pink trainers, Juliet Montague, as they thread their ribbons around a maypole, and the rest is history.
The director of Moving Stories explored the text with her actors, seeking the origin of the 'ancient grudge' between the two families, and observes that Shakespeare did not specify the reason for it.
She writes in the programme: "Often the original cause has been forgotten about why you don't marry into the opposing family, or drink in the same pub as them – you just grow up knowing that you don't."
She adds that the company was struck by the speed of events, how quickly things spiral out of control: "It doesn't take us long to find the relevance of such conflict for our times now: the shocking rise of knife and gun crime among gangs in our major cities."
Those messages are graphically conveyed by this outstanding cast led by the strong bass voice of Reece Henderson as a sweet and sensitive Romeo, with a gorgeously feisty and headstrong portrayal of Juliet by Michaela Bennison.
Anna Franklin is the deliciously cheeky, teasing Nurse, with lively likely lads Conor Ensor as Tybalt, Alexander Dover as Mercutio and Daniel Short as Benvolio, the gentle Anibal Miranda as Paris, the fine Peter Wiedmann as the Friar, Hattie Wilkinson making her confident debut as Escalus, and Saul Jaffe and Paula Masterton skilfully playing the bewildered parents, Lord and Lady Capulet.
Laura Mead, Eliza Harris and India McKenzie complete a well-rehearsed, clear-speaking team of professional actors, all playing instruments, with apt and frequent folk-based songs composed by Matthew Reeve, with a troubled soundtrack echoing the dark drama on the stage.
Fight director Kenan Ali and movement director Kitty Randle convince us of the violent antipathy between the Montague and Capulet families, with excellent set and costumes by Kate Unwin, wardrobe by Lizzie Maria Thomson, lighting by Matt Vale, sound by Jon Fiber, and stage management by Charlotte Brown.