We hope you enjoy this selection of photos, reviews and other memorabilia from our show archive.  If you want more information about any of our past shows, please feel free to get in touch.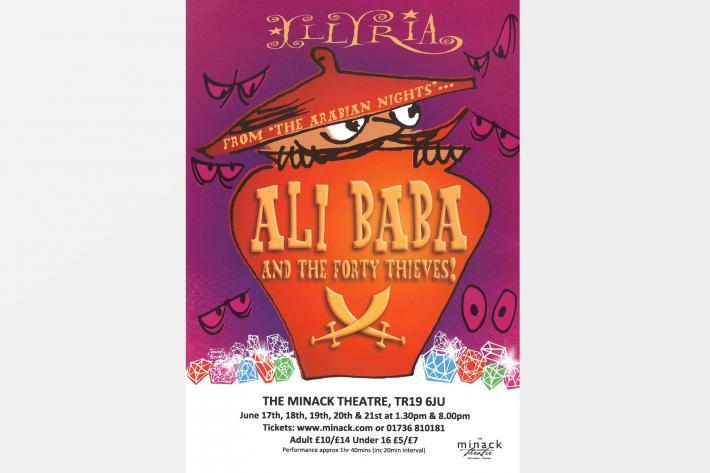 Review by Jenni Balow
Kids all over Cornwall will be shouting "open sesame" at whatever obstacle gets in their way, after watching this spectacularly entertaining show by the inimitable Illyria  –  but don't let them get their hands on any swords!
The clash of metal blades during a protracted fight that saw off the 40 thieves, was flinchingly and gaspingly realistic as a whirling tiny bundle of energy in the shape of actor Isabella Hayward, did what she had to do, any way she could.
Fight director Keith Wallis, the go-for-it man who trained the actors to hurl themselves into the action, swishing and ducking with frightening alacrity, has us all "ooh-ing and aaah-ing" throughout the telling of this well-known adventure.
As always, writer and director Oliver Gray has skillfully and playfully adapted a favourite story for Kid's Week at the Minack. Illyria are regulars at this time of the year, and will go on touring throughout the UK and over to the Netherlands this summer.
Remarkably, considering there are 40 thieves, plus Ali Baba and his family, there is a cast of only five actors, four of them making their debut with Illyria, which is in its 28th season.
They are led by the towering and imposing figure of Beau Jeavons-White as the Robber King. Who would argue with him, he stands head and shoulders higher than the rest of the actors, and has a dramatic and comedic impact.
Christian Reid, primed by studies in stage combat and the martial arts, is a lively, acrobatic Ali Baba, and acts alongside the dynamic Isabella and equally strong characters, Sophia Lorenti and Nathan Turner. What a team, what fun.
They all play multiple roles, dashing around between quick costume changes and sorties into the Robbers Cave  –  a glowing giant of a tangerine hot rock. It is the work of Alan Munden, based on an ingenious concept by Christopher Barlow.
The effect is underpinned by the drama of the Arabian nights music superbly arranged by Ben Wiles, with choreography by Jenny Cullen and costumes by Curlywilly Productions, with a jolly programme by Frazer Marr. The producer is Stephen Badham.