We hope you enjoy this selection of photos, reviews and other memorabilia from our show archive.  If you want more information about any of our past shows, please feel free to get in touch.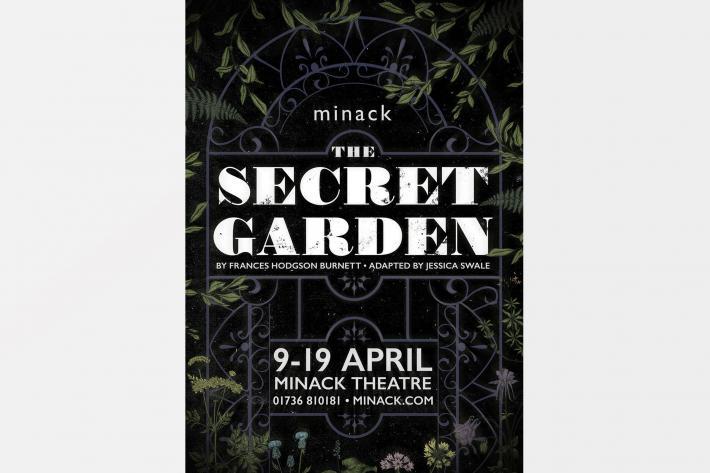 Review by Jenni Balow
It is difficult to imagine a more enchanting production for both children and adults than this show. It opens with actors using feather-dusters to spruce-up an impressive set  –  but do you know what, no further polish was needed.
The immensely talented Minack team has picked a lovely adaptation of the famous novel by Frances Hodgson Burnett to showcase all their creative ideas and, above all, give their young actors a chance to shine.
With the support of a bunch of Cornwall's best professional actors, a trio of musicians and a menagerie of fluttering, squeaking, barking and scratching bird and animal puppets, they confidently take on Jessica Swale's charming script, making us laugh –  and cry – in both sympathy and delight.
The original book was written more than 100 years ago, and follows the many switches in the fortunes of Mary Lennox, a little girl whose over-privileged and exotic life in India is dramatically changed when she is orphaned and sent to England to her uncle's home in Yorkshire.
There, Mary (Juliet Colclough), shakes-off her petulance and discovers that this is a house of secrets, in the down-to-earth company of head gardener Ben, (Steve Jacobs) her young maid Martha (Alina Hulse) 12-year-old Dickon, (Roisin Bermingham) "who talks to animals" and a boy called Colin (Harry Ladd-Carr).
This happens despite the efforts of the dragon-like housekeeper Mrs Medlock (Rebecca Hulbert), a frighteningly controlling doctor (Craig Johnson) and her sad Uncle (Ben Kernow), to keep the past under wraps.
With her young friends, she is soon out exploring and encounters the first of the puppets designed and made locally by Alice King and Mae Voogd.
A whistling Robin redbreast was followed by a mouse that gives an enormous shaggy dog the run-around, also a fox, and a lamb, expertly romped around the stage by former War Horse puppeteer Richard Vorster, and the company that included Jenny Beare and Eleanor Toms, and a second shift of junior stars, Rose Adams, Charlotte Mann, Caleb Cross and Caiden Thomas.
The Minack is a garden in itself, with its stunning banks of succulents that flower and flourish, despite having to cling to a sheer granite auditorium, but set designer Elroy Ashmore ingeniously resolved the presentation of THE secret garden, making it work seamlessly with interior scenes.
Speaking of which, producer Zoe Curnow, director John Brolly, composer and musical director Ben Sutcliffe, playing with Zaid Alrikabi and Ruth Wall, production and lighting designer Simon Hutchings, costumier Dean Horner and stage manager David Gibson, work together superbly.
It is a peach of a show and the story is clearly told inside two hours, which is long enough to make anyone's garden grow in early spring.