based on characters created by Charles Addams
We hope you enjoy this selection of photos, reviews and other memorabilia from our show archive.  If you want more information about any of our past shows, please feel free to get in touch.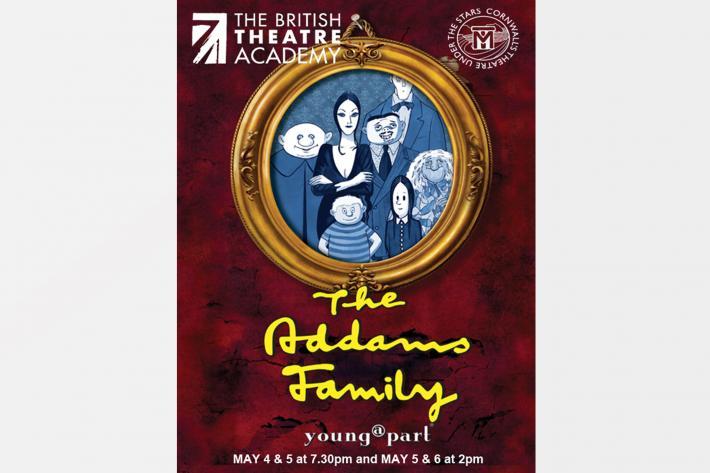 Review by Jenni Balow
Lurch, a Gothic monster of a character, who is sent out to very slowly 'warm up' an audience faced with a ghostly grey set full of coffins, found himself literally left in the lurch and "stalling for time" when one of the stars of the show fell ill during the second of four performances.
The start of the second act was delayed by 15 minutes when dance captain and one of the ensemble 'ancestors', Rose Hammond, hurriedly stepped into the black dress and shoes of the matriach of the Addams Family, Morticia, played by Isabelle Palmer, who was unable to go on after suffering the effects of a hot and sunny matinee performance a couple of hours earlier.
The potential crisis was professionally brushed aside by Rose, who got straight into her understudy's stride, and didn't put a word or a foot wrong, singing with huge confidence and applauded by an audience that had been schmoozed and 'bled dry' during the long interval, by a Frankenstein type butler, of all people, played by Kieran Faithfull.
They were part of an astonishingly young cast, none of them older than 18, who demonstrated why they were chosen from several hundred wannabee actors who auditioned in London and Truro, for a role in this British Theatre Academy show.
The youngsters get to train with professionals at the highest level as members of the new Minack academies in musical theatre and drama, in this case with Dean Johnson, director of this award winning musical based on the cartoon family originally devised by Charles Addams in the Thirties.
The cult collection of ghoulish characters, whose home is a graveyard, topped by a Celtic cross, thrive on cryptic humour and rigor . . . mortis.
But this weird family is fun, especially with James Knudsen playing the Dad with Spanish swagger, Isabelle and Rose as the droll Mom, the skeleton clown Daniel Wilmot as Uncle Fester, daughter Chloe Hackett who knows how to belt out a song, son Henry Littell in short trousers and braces, and whacky Cassie Cooper as grandma.
We watch their monotone home transform when their love-struck daughter, Wednesday, brings home a boyfriend Frazer Woolcott, who is the Addams apple of her eye, with his 'normal' family, Jasmine Williams and Joseph Millington, and a curious game, not of thrones, but disclosure of darkest secrets, begins.
The songs in this show are super snappy, with MJW Audio in charge of sound design, Thea Butler's choreography is brilliantly lurchy and jerky, the costumes by Linda Rees and make-up by Laina Murphy, lit by Simon Hutchings, are a deadly delight.
Yes, it's one hell of a show.