We hope you enjoy this selection of photos, reviews and other memorabilia from our show archive.  If you want more information about any of our past shows, please feel free to get in touch.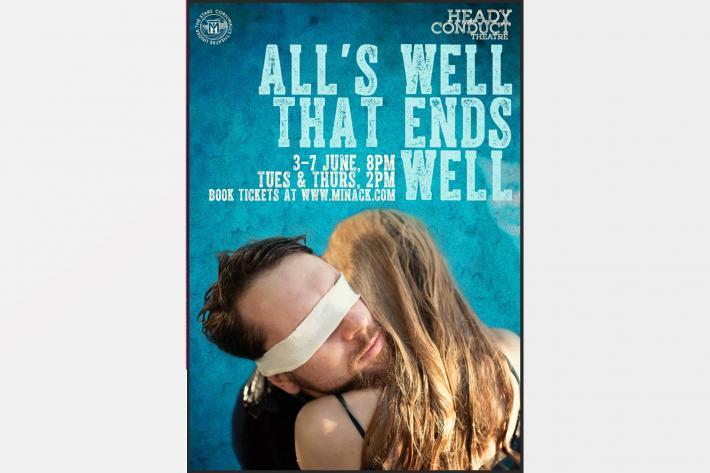 Review by Jenni Balow
A classy company of actors made a fine debut at the Minack this week with a puzzling play that was given a thoroughly unconvincing title by Shakespeare, with its heroine running dubious rings around a more than reluctant partner.
Watching the nightmare scenario of a woman setting her heart on a man who clearly wants nothing to do with her, is surely more tragedy than comedy, and the resulting trickery aimed at trapping him, will surely not guarantee that All's Well That Ends Well.
Did 17th century audiences go along with that premise, or are we simply more cynical these days?
Well, it's a good one to debate, and the Heady Conduct Theatre could not have given us a more clearly expressed, word-perfect and thoughtful version of this problem play.
Interestingly, Scorrier's very own Simon Rodda, who founded the company just four years ago with director Rebecca Rogers, has made a study of All's Well, and "grown to love it more and more".
In the programme, he notes that it is one of two of the Bard's plays to mention a pasty – so he knew it was the right choice for their first production at the Minack, and even introduced some Cornish language conversation into the text!
He also lightens-up the atmosphere no end, with an easily played, amusing portrayal of Lavache, clown to the wise and gracious Countess (Fiona Tong) the mother of Bertram (Waleed Hammad) who scornfully rejects his bride.
The so-intelligent in every other way, Helena, (Eleanor Jackson) has claimed him as a 'reward' for curing the King (David Robinson) of a life-threatening illness.
A good part of the first half of the play is heavy with this sense of rejection and the hurt suffered by the proud Helena, but Bertram's less-than-reliable companion Parolles (Blake Kubena) saunters through it all, flashing his saffron-silk 'kerchief without a care, delightfully seducing the audience with mischievous asides.
This small company of actors is completed by the appearance of the lively Diana (Maria Loveday), the Captain and Mariana (Ripeka Templeton) and New Zealander Edward Bijl as the Lord. They all act and speak beautifully.
Composer David Nicholas constructed a compelling soundtrack, and dramatic dragon's blood tone drapes and cut-out soldiers set off a simple set designed by Amy Harris, with costume designer and optimist May Clyne slipping Helena into a sun dress, and pessimist stage manager Charlotte Hall equipping the actors with umbrellas.
All in all, it went very well.