We hope you enjoy this selection of photos, reviews and other memorabilia from our show archive.  If you want more information about any of our past shows, please feel free to get in touch.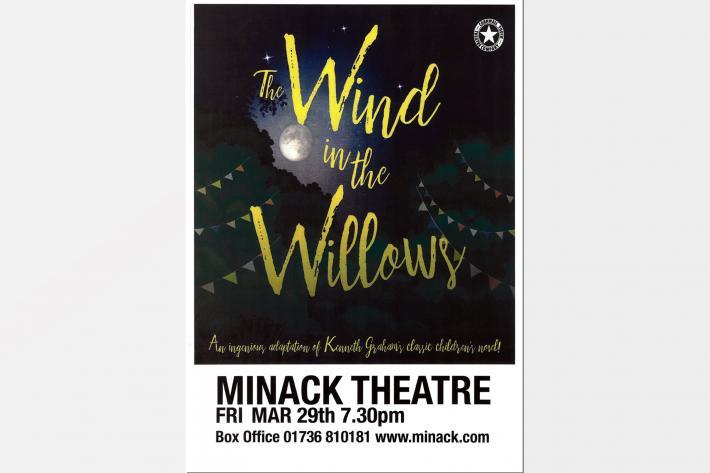 Review by Jenni Balow
A Brummie horse named Albert and a gruff-sounding Toad were cheered on by a blockbuster-sized  audience of family, friends and supporters at a season opening single performance of The Wind In The Willows at The Minack.
More than 600 sat under the stars on a close-to-freezing sparkling night to watch the Truro-based Cornwall Youth Theatre Company present Alan Bennett's chummy adaptation of the Edwardian classic originally written by Kenneth Grahame.
The mainly black clad well-rehearsed cast took it all in their stride, although the transition from rehearsals in a small space, to projecting their actions and voices to fill the huge open air auditorium on a cliff, demanded adjustment.
They used a few simple props in this understated production directed by Andy Blake and designed by Jackie Moule, with sound and effects by Rob Elton and Lee Bartholemew.
Artistic director David Hunter notes in the programme that Grahame loved Cornwall and began writing about his riverbank characters when he was staying in Falmouth and later featured Fowey in his stories.
Certainly one of the boaters, Bodie Graham was proper Cornish, but the rest of the characters aired a range of accents, notably the "trusty steed" Albert, (Kieran Faithfull) bursting with Brummie attitude and forever frustrated by the carrot that dangled just out of reach, from the rim of his fetching hat.
Avan Lindemann presented an intelligent and pretty laid-back Toad from the Home Counties, wearing vivid green-framed glasses and tweeds, while dapper Badger (Owain Canniff) was a 'down to earth' Northerner.
Ratty, played with lots of character and real energy by Dylan Hockings, paired well with the bespectacled Mole (Danielle English), as they spuddled around the stage in an inflatable boat.
The baddies, an aggressive band of weasels, stoats and ferrets, were rabble-roused by Rosie Dymond, and by contrast, Otter and little Portly, Finn and Ethan Perham, were sweet in snorkels and stripey vests.
The whole company that lived "all along the backwater" in a part of England that was all heath and common and hedgerow, when bloater paste sandwiches were a picnic favourite, is given to ambling along.
But Toad literally upsets the mood when he gets behind the wheel of a motor car (something of a novelty when the book was published in 1908) and finds himself in jail, "all aloney on his owney" after careering off the road and crashing.
His friends come to the rescue, of course, and it ends on an "up tails all" note.