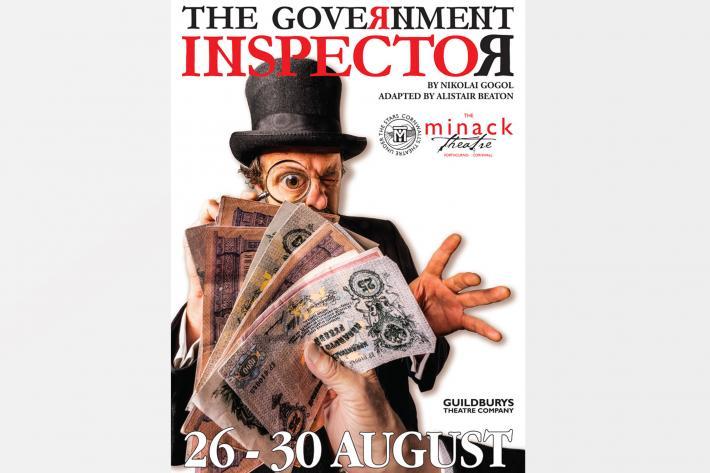 Review by Jenni Balow
The Mayor and his mates in a Russian town are thrown into a frenzy when it is rumoured that an incognito government inspector is about to call on them.
The town supremo is a distinctly dodgy geezer, with pockets stuffed with roubles, bribing anything that moves, and with an inclination to flog anyone who argues with him.
So we watch with glee as the greedy bureaucrats are taken in by the trickiest of tricksters, an opportunist who out-talks and out-smarts them, after they make the mistake of thinking that he is the official sent from St Petersburg to check them out.
The Surrey based Guildburys, soundly directed by Ian Nichols, presented an energetic and very funny interpretation by left wing writer Alistair Beaton, who cut his satirical teeth on material for television's Spitting Image and Not The Nine O'Clock News.
And, of course, Gogol's story is closely echoed in one of the most hilarious episodes of Fawlty Towers, when John Cleese bows and scrapes in the general direction of The Hotel Inspector – another case of mistaken identity.
The Mayor, superbly acted by Robert Sheppard, bristles with a power based on fear, a small town thug, stating: "When I take money off 'em, I take it with the best will in the world".
When he hears that the government inspector is in town, he orders: "Tell the Constable to stop beating-up people at random."
So we all enjoy his comeuppance at the whim of the smooth-talking Khlestakov, immaculately played by Jason Orbaum, who delights as an oily, brilliantly articulate loafer, accompanied by his acting equal, Graham Russell-Price, as his "lolling" servant.
Graham and the director also designed the convincing set, overseen by a giant portrait of the Tsar, and featuring an imaginative lit silhouette of the town roofs and spires.
And as the bigwigs were deftly 'played' by Khlestakov, the inexhaustable (nose-picking) Mayor's maids, Jemma Jessup and Pam Hemelryk deserve praise for almost invisibly flitting around that set, carrying bed bits and boxes, and loads more, both as part of the action and seamlessly scene shifting.
The centre-stage tableau style groupings, with the cast dressed mainly in soviet reds and blacks, looked nearly as good as the Mayor's wife and daughter, Laura Sheppard and Issy Arnett, each endeavouring to flirtatiously outdo the other in gorgeous gowns, thanks to costumier Diane Nichols and team. She also appeared as the vodka-swilling postmistress, no wonder, with that workload!
The dignitaries and officers with long Russian names, all individually very well acted were Tim Brown, Gilly Fick, Dave Ufton, Howard Benbrook, Steffen Zschaler, Paul Baverstock, Eddie Woolrich, Tessa Duggleby and Oli Bruce, with ensemble.
The original music by Andrew Donovan was an inspired mix of jaunty Russian folk and dramatic classical, with entertaining dawn sounds and others by Simon Price, and lighting by Robert Sheppard.
You might like to know that Gogol loved to use ludicrous surnames  –  the Mayor's interprets as 'empty headed rascal'   –  enough said.