We hope you enjoy this selection of photos, reviews and other memorabilia from our show archive.  If you want more information about any of our past shows, please feel free to get in touch.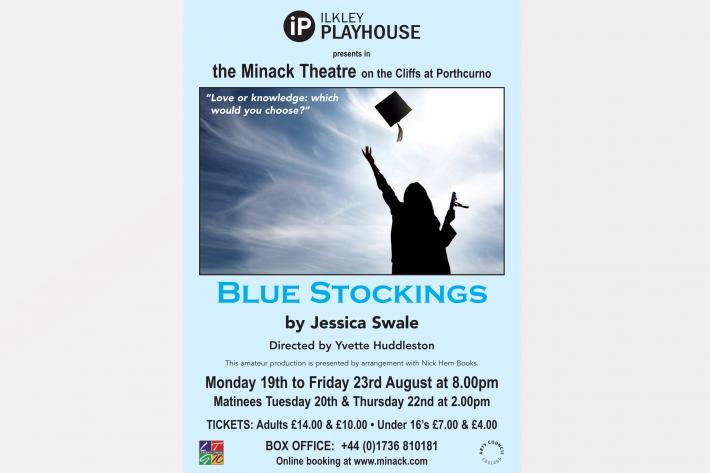 Review by Jenni Balow
"GENTLEMEN"  –  That was the first word spoken in this play, incidentally, by a highly educated lecturer, when he welcomed the new intake of undergraduates to Cambridge in 1896. The group included four women.
It was a masterstroke by the exciting young playwright Jessica Swale, grabbing the attention and sparking indignation, at least from every woman in the audience.
Our frustration, and that of the four exceptionally bright and excited women students, who were ignored when they shot their hands into the air in answer to his incisive questions, grew into fury. Just imagine what that felt like, when it happened for real.
This insight into the early days of extending higher education to include women students, was an eye-opener and education in itself. And the Ilkley Playhouse is using this as an opportunity to raise funds for Malala Yousafzai's worldwide appeal to extend universal learning for women.
Despite the best efforts of the women's suffrage movement in the 19th century, the Cambridge Fellows, quite astonishingly, rigidly refused to grant degrees to women graduates until 1948, although the universities of London, and Oxford, were well ahead of them.
This superbly written play is directed by Yvette Huddleston, and Blue Stockings is Ilkley's 21st production at the Minack. On the opening night, those words needed greater projection towards all those sitting at the top of cliff  –  we wanted to hear every one of them.
The story follows the experiences of four 'Girton Girls', Tess, a very bright outspoken would-be astronomer, expressively played by Livy Potter, the worldly wise doctor in the making, Carolyn, acted with sophistication by Nikki Ford, the convincing Jenny Button as the original thinker Maeve, and Felicity Woodhouse as Celia, with another brilliant mind.
Ilkley's president Dick Hebbert is the formidable real-life psychiatrist, Dr Henry Maudsley, who asserts "that a woman who uses energy exercising her brain, does so at the expense of her vital organs". Ha.Ha.
The boys from nearby Trinity and King's are frightfully correct, when they are not frightfully drunk, and are curious about "the petticoats" at Girton College.
The admiring Ralph (Matt Paul) steps up to divert Tess from her studies, closely watched by the dependable Will (Jonathan Kennedy) and Edwards (Eoin Howe), Holmes (Sam Button) and the misogynist Lloyd (Rob Paul).
The heroes are the supportive Mr Banks (Damien O'Keeffe), a lecturer who will put his Fellowship on the line if he continues to teach at Girton, Miss Blake (Louise Button) who assures her students that "you are not most women . . . read everything, learn everything", and the college head Mrs Welsh (Geraldine Woodhouse).
Several actors double-up, and include Julia O'Keeffe and her knitting, as the chaperone, Andy Price as Billy, the brother of Maeve, who will take her home to look after the family when their mother dies, cutting short her academic future, and Lisa Debney as the maid, Minnie.
The set design by Robin Green is studious, with bookcases lining the stage, very suitable costumes by Sacha Denney-Rodwell and team, and sound and lighting by Richard Speight and company.