book by Cheri Steinkellner & Bill Steinkellner
additional book material Douglas Carter Beane
based on the Touchstone Pictures Motion Picture "Sister Act" written by Joseph Howard
We hope you enjoy this selection of photos, reviews and other memorabilia from our show archive.  If you want more information about any of our past shows, please feel free to get in touch.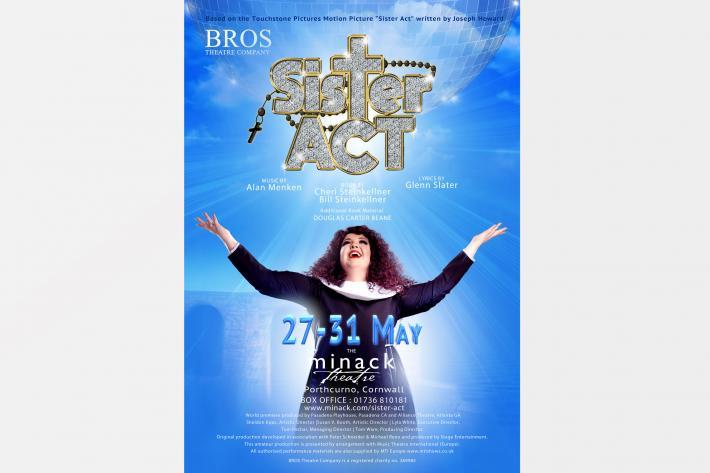 Review by Jenni Balow
Oh brother! The cheers for a chorus of rocking showbiz nuns giving it up to a 'celebrity' Pope, must have been heard way up there in heaven.
The mightily talented BROS Theatre Company from south west London, staged a stunning show and one of the loudest and sparkliest finales ever seen on the Minack stage, to thrill a sell-out bank holiday crowd on the opening night.
This is their 13th musical under the stars, and it is not just luck that regularly brings them back to Cornwall, with a prime slot in the summer schedule. This amateur company always perform as if their lives depend on its success.
Whoopie Goldberg's involvement ensured a high profile Broadway production, but BROS matched that with an equally big personality in the shape of Aggie Holland, playing star nightclub singer Deloris, whose Philadelphia street attitude and fabulous voice was in sharp contrast to the demure, totally correct, sweet sounds of Kerry Magee as Mother Superior.
The two find themselves thrown together when Deloris sees Mr Very Nasty boyfriend, played by John Paul Sutherland, and his henchmen James Turnbull, Paul Nicholas Dyke and Sebastian Roughley, shoot a guy who has grassed to the cops.
Deloris runs to the police to report the crime, and finds a former high school friend who had a crush on her, in charge of the investigation. 'Sweaty' Eddie insists that she needs witness protection  –  in a convent  – and the story goes from there.
Eddie, Darren Moss, remembers when Deloris was Doris, and wins our hearts when he wistfully sings I Could Be That Guy and hopes to impress her, this time around.
In the meantime, the cash-strapped convent is threatened with closure, to the despair of Monsignor O'Hara, Andy Yeates, but guess-what, an emphatically out-of-tune choir of 30 nuns, is taken in hand by Deloris, and the dollars flood in.
From there, the only way is up, with novice Sister Mary Robert, Tracy Sorgiovanni, finding her feet along with a lovely song, The Life I Never Led.
The action is led by lively Sisters, Katy Jackson, Deb McDowell, Caro Hayes and Clair Jardella,
who soon shed their traditional black and white for an increasingly spectacular series of shimmering, sequinned 'accessorised' vestments, causing Mother Superior to sigh over her celibate nuns "going out there, shaking their bums".
Despite her worries, it is the Monsignor who delights in their glitzy choir concert costumes, giving a twirl or two in his resplendent robes.
The show bursts into life from the start, with Deloris appearing at a nightclub in a lively trio with Bex Wood and Emily Bright performing along with musical director and production manager Martin Wilcox and his superb on stage band.
Sian Bowles-Bevan must take a big bow as director, choreographer and production manager.
Wesley Henderson Roe as technical manager and stage designer gives us a simple ecclesiastical set and Jacqueline Campbell and her team come up with so many great costumes, with lighting and sound by Mike Bradbury and Stuart Vaughan.