We hope you enjoy this selection of photos, reviews and other memorabilia from our show archive.  If you want more information about any of our past shows, please feel free to get in touch.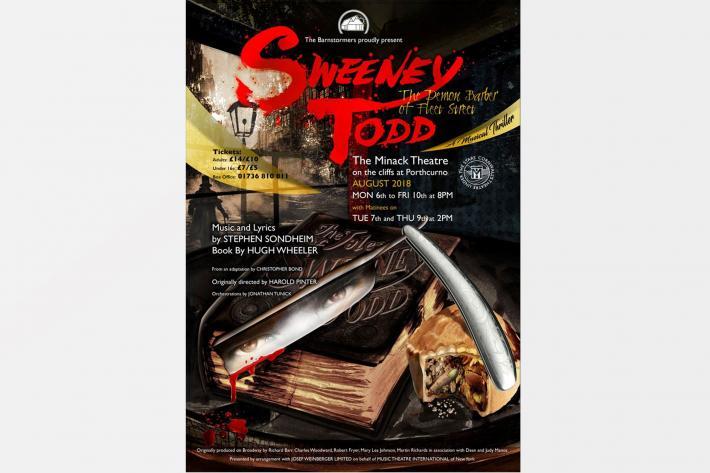 Review by Jenni Balow
Take my advice and eat your picnic before this dark and thrilling musical begins, because you certainly won't have an appetite for your steak pasty, or anything meaty when you witness the grizzly contents of this award winning masterpiece by Stephen Sondheim and the Surrey-based Barnstormers.
This is a grim Victorian tale of the bloody revenge taken by the finest barber in the City of London, who returns 15 long years after being deported on a convict ship to Botany Bay by a Judge who takes a fancy to his beautiful wife, Lucy, and wants him well out of the way.
Todd is a brooding broken man, but pie-maker extraordinaire Nellie Lovett takes him under her wing, so to speak, and he is also rescued and then befriended on the ship home by Anthony, a young sailor, who will soon meet the barber's beloved daughter, Johanna.
Producer Richard Allen has assembled nearly 120 actors, musicians, designers and technicians for this epic show that throbs to Sondheim's insistent and repetitive counterpoint score, which he describes as "ranging in style from soaring beauty to pitch-black comedy and stunning terror" and I certainly go along with that.
Scaffolding has been used by production and set designer Tara Usher to erect complex and dramatic staging that includes a barber's shop with a shute for the rapid disposal of certain clients into the cellar, and with a giant glowing oven for Mrs Lovett's lovely pies.
And it is Sarah Trotman playing Mrs Lovett, who gives a star performance in partnership with Shane Perry as Todd. It is a wonderful role and she gives it everything she has, which is a fine feisty voice, and a wicked sense of dark humour.
They are great together and incomparable as they plot the contents of the pies – "a politician's so oily, he's served with a doily" – and when she dreams of something better By The Sea.
William Huke and Rachel Kitchen are utterly delightful as Anthony and Johanna, and in a different way, so are David Phipps-Davis as Pirelli and Kaidyn Hinds as Tobias, with Nick Heritage monstrous as the Judge and Paul Robinson as his nasty accomplice, who innocently asks the barber "do you pomade the hair?" and sings and plays an improbably sweet ditty on the harmonium.
Steven Geraghty makes a very sound debut at the Minack as musical director, with an orchestra that delivers scarily and screechingly as demanded.
The director Paul Longhurst, assisted by Fiona Steel, and technical director Bruce Reed, make a great team with costume designer Penelope Konstantara and Caro Rowley, with spot-on cue lighting.
Do you fancy a shave Sir, or a pie, perhaps?