We hope you enjoy this selection of photos, reviews and other memorabilia from our show archive.  If you want more information about any of our past shows, please feel free to get in touch.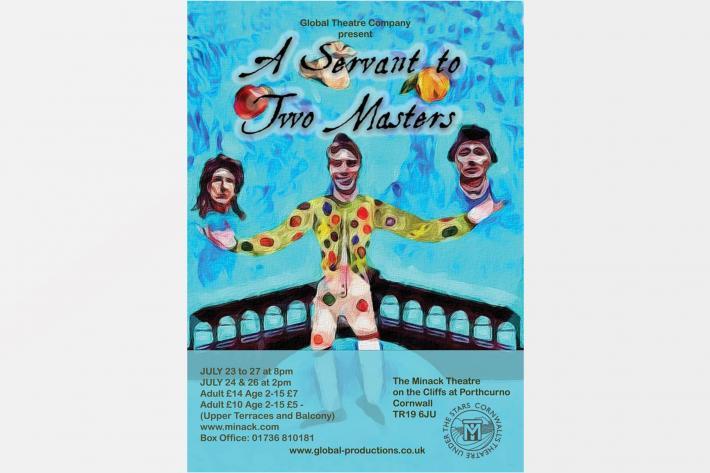 Review by Jenni Balow
The comedy One Man,Two Guvnors, notably with James Corden who very successfully earned a meal ticket around the world as its hungry star – was inspired by this play, A Servant to Two Masters..
This production, directed by Michael Philips, who founded the London and Essex based Global Theatre Company, returns to the18th century script, written by the Italian Carlo Goldoni, updated 20 years ago by Lee Hall.
And the cast may be classically costumed with Venetian elegance by Chrissy Fryers, but the Corden influence is right there for its own pirouetting star Dave Perry, who explodes onto the stage and rolls and cartwheels and generally bounds around, while stuffing everything but a pasty into his hungry mouth.
The actor, who appeared in Downton Abbey, looks and sounds like a young Tommy Steele, a crafty cockney Jack-the-Lad servant, who acts like a Jack-in-a-Box as he dashes around, trying to serve his two masters, devour a spotted dick and seduce a 'West Country' maid (Johanna Grace) at the same time.
With that kind of ebullience, and skill in remembering to open and kick shut imaginary doors, as he attempts to serve up two feasts to the two masters, simultaneously, he takes an enthusiastic cast with him, all of them intent on setting an equally high bar with their own characterisations.
We have a latter day Frankie Howerd type in David Millard, the Brummie of Brighella, Simon Billig, the crosspatch Jennifer Dorian, who can throw a spectacular tantrum, Lucy Ashton, disguised as a man, who relishes a dazzling swordfight, and gives such a sound beating, she had the first-night audience gasping, plus Lee Ocsko, Chris Millington, David Reed, Terry Perkins and Elaine Elliott.
Full marks to Dominic Kinnaird, who also plays a camp waiter, for choreographing such convincing fight scenes, and to John Candor who plays perky period Italian music on his clarinetto.
The style of humour may be pretty basic, but the full-on cast makes a real meal of it.