We hope you enjoy this selection of photos, reviews and other memorabilia from our show archive.  If you want more information about any of our past shows, please feel free to get in touch.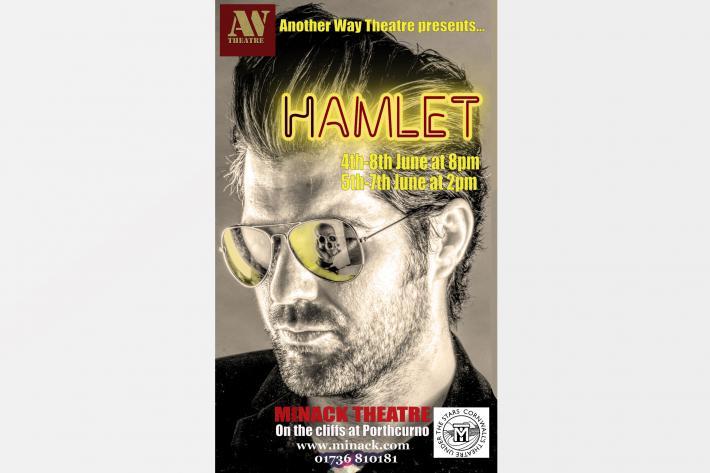 Review by Jenni Balow
Hey, Hamlet, what's with the the hoody, the headphones, the high fives, the chest bumps and air guitar strumming   – this is serious man, you're a prince, this is tragedy.
The quiffed and coiffeured prince in sunshades and sneakers has a clear sense of fun that actually makes this long play so compelling and watchable that nearly three hours simply fly by.
In fact, Dan Avery's modern interpretation of this difficult role, directed by the multi-talented Chris Chambers, was exceptionally fine, and he carried a strong cast along with him, notably including Drummond Bowskill and Jan Szafranski as two hairy bikers, Rosencrantz and Guildenstern.
He was backed by a rock music based thrumming, time-ticking soundtrack, sometimes electronic and disturbingly discordant, at other times choral and joyously uplifting, composed by Chris and delivered by sound technician Joseph Lyndon, with a clock aware set designed by Emeline Beroud.
So, here was a mix of dark drama given a contemporary slick-suited slant that will never please the traditionalists, but it was bold and brave and convincing with every word clearly spoken and understood.
In the stylish programme, which he designed, Dan is shown holding Yorick's skull reflected in his sunglasses. In it, the professional actor, who is also an A&E nurse, outlines his exhaustive research of the role of Hamlet, the prince who discovers that the King of Denmark, his father, was murdered by his uncle (Stephen Ashmore-Blakely) who has now married his mother.
It's enough to upset anyone, and Dan plays it with a controlled energy and emotion that wins the sympathy of his audience and especially fellow cast members Andrew Fitch as his best friend Horatio, Rebecca Pickering as Ophelia in stilettos, Robert Rowe as Polonius, producer Nicky Chambers as his mother, and Matthew Headon as Laertes.
Anthony Allgood is all good as the ghost of his dead father, and relishes the chance to offer some light relief as a Sinatra- humming gravedigger, with an ad-lib for the locals  "get thee to the Cable Station and fetch me a pint of Poldark".
There's more fun to be had when Yorick makes an appearance as a fantasy Father Christmas, so you see, this production was not totally immersed in madness, villainy and treachery, despite the seriousness of the plot.
All is not rotten in this state of Denmark, in fact, a visit will be truly rewarding.