We hope you enjoy this selection of photos, reviews and other memorabilia from our show archive.  If you want more information about any of our past shows, please feel free to get in touch.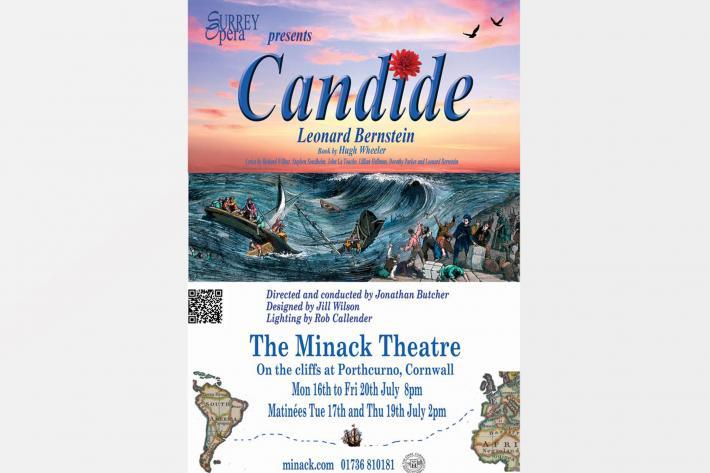 Review by Jenni Balow
My ears are ringing and singing with sheer ecstasy and my head is still spinning with delight, after watching one of the Minack's most exhilarating musical productions.
It involved a three hour dash around the world in the company of a remarkable team of singers, musicians and designers with the Surrey Opera, immersing the audience in washes of sound and colour of exquisite quality.
The production was chosen to celebrate the centenary of the birth of the American composer Leonard Bernstein, who wrote the music for West Side Story.
Candide was staged just a year before, and is certainly not as well known in the UK, but the music has his exciting, vibrant and original stamp, making use of the rhythms of the many countries visited during a convoluted journey across the world.
It has been adapted and re-worked many times since it was first heard on Broadway in 1956, with songs added by many famous composers, until Bernstein approved this version by Scottish Opera, more than 30 years later.
It is a shame it was not re-titled during those revisions, because it sounds like the name of a tragic heroine to those who do not know Voltaire's tale. In fact, Candide is a man in pursuit of a woman with another awkward sounding name  –  Cunegonde. They could have changed that too!
Anyway, Surrey Opera's conductor and director Jonathan Butcher was privileged to study with Bernstein in the US, and describes Candide as "a fascinating and extraordinary piece of music theatre written by an amazing man" and you can't argue with that.
The story is based on the concept that in making sense of life, we take it as "the best of all possible worlds", so Bernstein turns that on its head by putting his characters through a journey that involves shipwreck, mass murder, hanging and every kind of villainy, but don't be put off by that because it is a crazy kind of satire, and above all, a colourful spectacle.
The voices of its nine principle singers are sublime, with Charlotte Hoather giving a remarkable performance on the opening night, effortlessly hitting the top, very high notes, as well as achieving perfect comic timing, in partnership with the impeccable Stephen Anthony Brown.
They were complemented by Tom Kennedy, Joanna Gamble, Giles Davies, Brian Smith Walters, Rosie Clifford, Tim Baldwin and Callum Speed, with a full volume chorus and incredibly fine orchestra. The role of Cunegonde is shared with Lizzie Holmes.
The design, dressing the chorus in chocolate Smartie coloured giant-buttoned tabards, in contrast with the 18th century costumes of the principle singers, was inspired by the incomparable Jill Wilson, who completed a simple set with a glowing globe, and illuminated planets representing the 'best of all worlds'.
This production was truly the best of all worlds, whatever Voltaire would have us believe.