We hope you enjoy this selection of photos, reviews and other memorabilia from our show archive.  If you want more information about any of our past shows, please feel free to get in touch.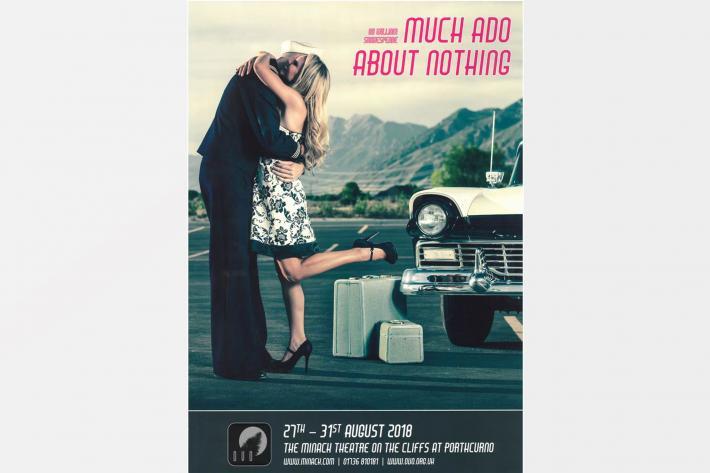 Review by Jenni Balow
The neon lights are on, the jukebox is playing the latest hits, the cocktails are lined up for happy hour, all day, every day, in a red, black and white checkered all-American diner, and there is much ado about a ship full of sailors arriving any time now  –  hold on, can this be Shakespeare?
Sure thing, according to the cast and directors of this award winning St Alban's based theatre company OVO, it is just how Shakespeare would have seen things in the 1950s.
Their own interpretation, with an on-stage band playing at least 20 rock and roll songs from that era, giving rhythm to a dialogue that has been up-dated with references to sending rockets to the moon, and the novels of Daphne du Maurier, is a real crowd pleaser.
The 16th century tale about match-making two couples by staging 'secret' conversations that can be overheard by them, and then the gossip and rumour that almost ruins those plots, lends itself perfectly to this re-writing of the script by directors Adam Nichols and Janet Podd.
There's plenty of fun to be had during the 'trolley' and 'coathanger' scenes that run into slapstick.
The show opens with the dynamic singing sensations, the Sonnettes, shimmering in sequinned shifts as they harmonise Lollipop, Lollipop, Mister Sandman and Hit the Road Jack, and will go on to perform Great Balls of Fire, Go Johnny Go, Jailhouse Rock, Leader of the Pack and many more well-chosen tunes.
The super Sonnettes are Lucy Crick, playing the jealous and sensuous Joanna, Amy Connery as the sweet chick, Hero, Jane Withers as the girl with a Texan drawl, Steph Jones, Sarah Priddy and Daisy-May Parsons.
Faith Turner is a smart and sharp cookie called Beatrice, who is a real match for the cheeky Peter Bryans as Benedick, with Andrew Margerison playing the often tricked and confused Claudio. The hostess with the mostess at the diner is the excellent Anna Franklin, backed by Jill Priest, who was also in charge of the snappy choreography.
Kieran Cummins has a big rock and roll voice along with Vince McLoughlin, and there is fine support by Rob Ferguson, Michael Wass and James Douglas.
Guitarist and musical director Tom Cagnoni leads the right-on band, and costume designer is Jacqui Emden, but the true stars are set designer Simon Nicholas and his team, who convince us that this Much Ado really does belong in the Midwest of America.