We hope you enjoy this selection of photos, reviews and other memorabilia from our show archive.  If you want more information about any of our past shows, please feel free to get in touch.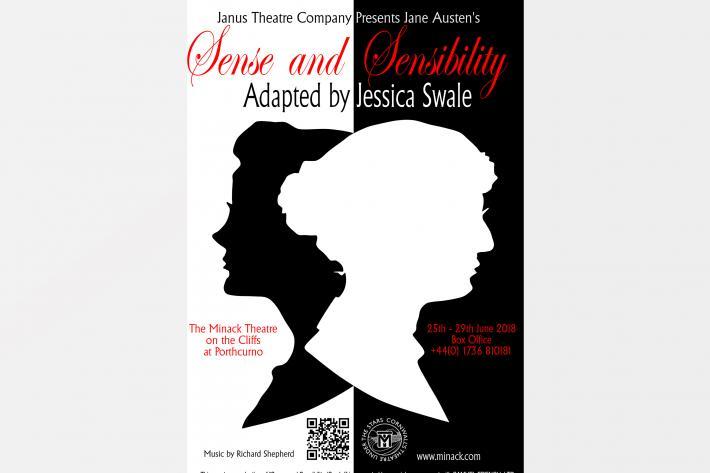 Review by Jenni Balow
This is pure Jane Austen, eminently sensible and played by the book, right down to the perfect ringlets of its very prettily attired cast, and a stage set with fine regency furniture.
Janet Adams, the director of the Bristol-based Janus Theatre Company, specifically assembled her cast for this sell-out production.
The costumiers Ann Aplin and Sarah Godsell sensibly supplied bonnets and shawls with their lace-trimmed dresses, but they were thankfully hardly needed during a brilliant week for outdoor theatre, despite a long running time of around two and a half hours.
There is a lot of story to be told, but some edits would have been welcome in case of stormy weather, when Marianne Dashwood would not have been the only one needing a rescue from the cold and rain.
Austen fans will know this famous story involving two sisters, Elinor (Tabitha Cox) and Marianne (Natalie Ling) who are desperate to make good marriages, when their step brother John (Phil Sims) and his snappy, sneering snob of a wife, Fanny, (Rebecca Haselhurst) deny them their father's intended inheritance.
His poor widow (Chrissie Gay) and charmingly played cheeky little sister (Siena Jackson-Wolfe) are forced to move with them to a very tiny cottage in the West Country.
Luckily the Middleton's, Sir John and his mother-in-law (Matthew Deering and Wendy Withers) give them a warm welcome, and set about match-making.
The contenders include the ever-obliging and endearing Edward (Andrew Cullyer) who has "no wish to be distinguished", the earnest Colonel Brandon (Phil Domaille) and the rascally Willoughby (Ross Scott), who incidentally also choreographs a dramatic sword duel.
Visitors include the gushing Mrs Palmer (Sarah Cullyer) and her long-suffering husband (Richard Farrer) who makes us laugh with his dry-humoured observations, also the tittle-tattling 'gossips' Ellie Breed and Sarah Godsell, who make the most of their brief encounter.
Richard Shepherd composed the suitably tinkly incidental music, which was repeated so many times, it became nearly as familiar as The Archers theme.
All in all, this production delighted our sensibilities.