We hope you enjoy this selection of photos, reviews and other memorabilia from our show archive.  If you want more information about any of our past shows, please feel free to get in touch.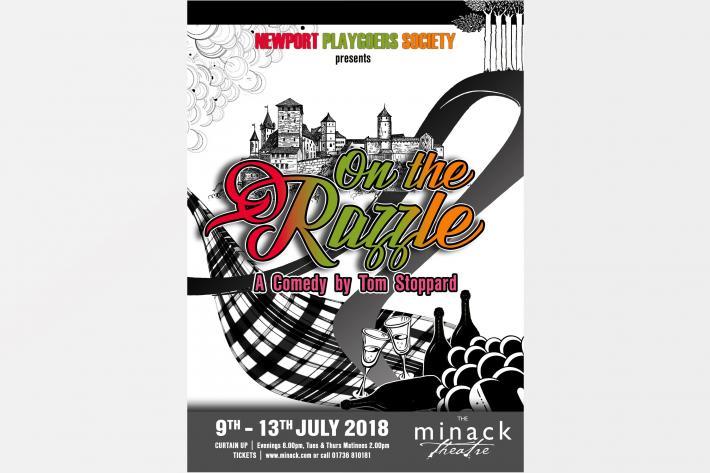 Review by Jenni Balow
Richard Dymond has taken on the challenging task of both directing and starring as the larger than life grocery entrepreneur Herr Zangler, who confuses his 'niece with his knees' within seconds of the start of this witty piece made famous by Tom Stoppard's production at the National Theatre in 1981.
When Zangler goes off to have a sort of highland fling in Vienna, with his 'fancy or fiance', where tartan is an improbable fashion must-have, his store assistants decide to have some fun too, and thereby hangs this tale.
Often hidden in large tartan cloaks, they dodge out of view of their master, who signals his approach by wearing ridiculous jingling spurs, with a flashily-braided scarlet jacket that exactly matches his pompous demeanor – he calls himself the cock of the walk, or was it cake of the week?
Co director Claudia Barnes also appears in the play alongside an array of colourful characters, notably Steve Drowley and Catherine Morgan as those sneaky assistants, James Symonds as his servant, Eileen Symonds and Ellie Hoare who are waiting in Vienna, and Ryan Hillier, a hot-blooded coachman.
Speaking of which, a variety of human-horse drawn carts, with carrot inducements, and parasol wheels, add to the imaginative and well-thought-out set designed by Graham Johnson and Linda Ward, with clever bell and pulley system in the shop, props by Ann Kelly and Alison Gerrard, with costumes by Rebecca Phillips.
Minack Youth Theatre members Caleb Cross and Kit Renshaw Hammond were invited to join the cast, winning enthusiastic applause for their roles as ragamuffins and mimic-assistants.
The niece, or was it the knees, is played by Kenna Grey, with Ryan Salter in pursuit – it must have been the knees!
Anyway, about the outcome my lips are sealed, or were they pursed? You can see the way this is going, can't you . . .