We hope you enjoy this selection of photos, reviews and other memorabilia from our show archive.  If you want more information about any of our past shows, please feel free to get in touch.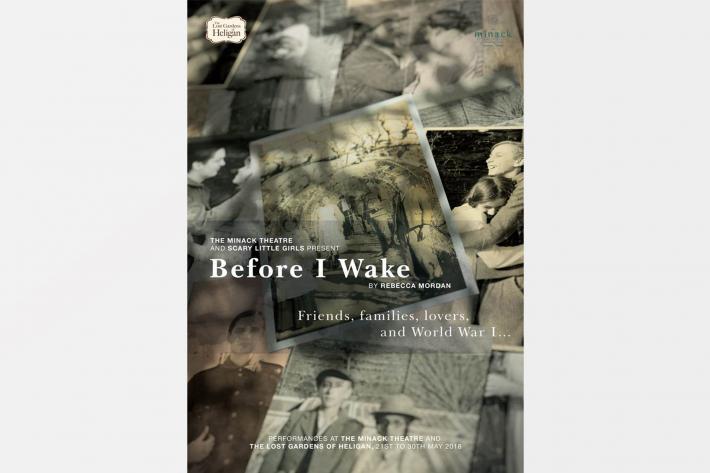 Review by Jenni Balow
This is a warm-hearted and remarkably upbeat play about Remembrance of four of the most horrific war years in the history of the world and the impact of that conflict on the gardeners and their families who worked on one of Cornwall's most famous estates.
Playwright and actor Rebecca Mordan owes her inspiration to the 13 young men who left the shelter of the now famous Heligan gardens for the battlefields of Europe. Only four would return.
Memorably, before they left, they wrote their names on the wall of the garden thunderbox – the 'privvy' – and 100 years since the end of the Great War, this is their epitaph.
In the days before they depart, we get an insight into the innocence and warmth of the simple lives and loves and small dramas that are all part of the routine among this group of estate workers who know how to party, tucking-in to tea with great dollops of clotted cream, as they sing and dance on May Day.
The spotlight falls on William, (Jowan Jacobs) the gentle gardener whose "head is full of poetry" and doesn't quite realise how much he is adored by a sturdy young tomboy Hilda, (Roisin Bermingham) who will always regret thrusting a white feather at him as a dare, urged on by her silly young friends.
Roisin, who is sharing the role with Flo Crowe, is big-hearted, big-mouthed and just big in all the best possible ways. She yells and stamps and has a bigness of character that is total – she will surely go far in those acting shoes.
Jowan is the perfect foil, playing with a diffidence that is touching, also attracting the devotion of Hilda's sister (Bethany Williams) and his brother Rocco Higgins.
Director Shazz Andrew worked with the youth theatre's co-director Zoe Curnow to recruit a 'home grown' ensemble that has already been a hit in musical productions earlier this season.
She is backed by a great crew including musical director Ben Sutcliffe who has come up with an impeccable soundtrack of early 20th century tunes, and has sprinkled the action with some of Cornwall's favourite songs, including Trelawny, The White Rose, and Away Down to Lamorna.
The apparently simple set designed and stocked by Alan Mundun is stacked with hefty boxes that are opened to reveal everything from rows of plants to an altar with crucifix, and as well as those cream teas and a maypole, and the kids brandish succulent bunches of rhubarb and asparagus grown in "earth that crumbles like a fairing".
The adults are pretty good too and include Rebecca Mordan, Bec Applebee, Jenny Beare, John Macneill, Tom Simpson, Joel Daffurn, Chris Rogers, Ollie Cumins, Sarah Annakin and Jessica Layton.
Hilda was among several women at Heligan who became gardeners when so many of their men were killed in the war, but the estate was gradually run down and was all but lost before being restored . . . and the rest is history.