We hope you enjoy this selection of photos, reviews and other memorabilia from our show archive.  If you want more information about any of our past shows, please feel free to get in touch.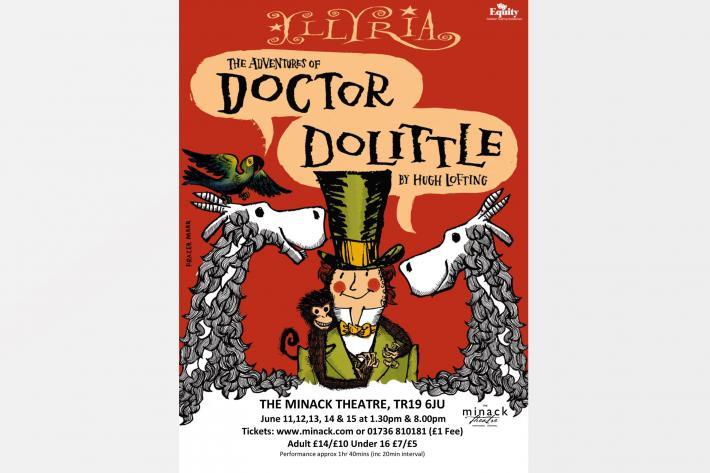 Review by Jenni Balow
Get ready to go on one of the best fun-packed adventures of the summer with a brilliant bunch of talking animals, oh, and five pretty amazing actors too.
The award winning Illyria team is on the road again with a menagerie of life-size puppets, and three other shows, performing throughout Cornwall right through to September, as well as touring the UK and Europe.
Illyria's tireless and thrillingly talented founder and director Oliver Gray has taken this tale and written his own words and music, which have been arranged and orchestrated by Ben Wiles into a delightful package of cheeky chirpy songs.
Plenty of well-known tunes have been borrowed and inserted, notably into a bullfight sequence involving the assured Dr Dolittle (Ed Simpson) who tackles a bull with a spotted handkerchief, bemusing him with notes from An English Country Garden, Swan Lake and the Can-Can.
Oliver was inspired by the rhymes, the puns and playfully original use of language by Hugh Lofting, who came up with the stories to relieve the horror of serving in the trenches during the First World War.
So the songs feature oceans of alliteration, from the "prattle of the cattle" and "seminars from salmon as they spawn" as well as "gathering all the gossip from the geese" to entertain audiences of all ages, as the doctor gets to "confabulate with cats and kangeroos".
This is a fast-paced circus of a show, with the actors literally racing up and down the Minack's many steps, arriving on stage just on cue, clutching a gorgeous array of puppets created by Nick Ash.
There's the waggy-tailed Jip the dog, Polynesia the parrot, Gub Gub the pig that loves CAKE, Dab Dab the duck, Too Too the owl, Chee Chee the monkey, and Pushmipullyu the . . . well, you'll have to wait and see, along with loads of others that ALL talk, and exchange the latest banter with reference to Brexit and US President Donald Trump.
The rest of the acting team, Callum Stewart, Laura Trundle, Nicholas Alexander Lee and Paula Brett, who share all of those parts, are loud and lively in splendid black and white check breeches with braces and knee pads, put together by costumier Pat Farmer, and all enhanced by designer Jill Wilson.
This is fantasmagorical feelgood fun.