We hope you enjoy this selection of photos, reviews and other memorabilia from our show archive.  If you want more information about any of our past shows, please feel free to get in touch.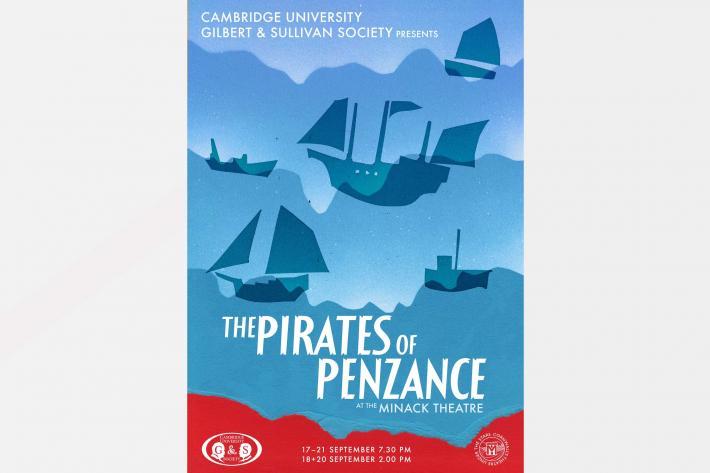 Review by Jenni Balow
THE TOWERING pirate ship that dropped anchor at the Minack this week stood rock steady in the storms that fair shook the stage at the start of the Cambridge University Gilbert and Sullivan Society's sellout run.
That solid set, so sturdily designed and built by Emily Senior and friends, was matched by the unshakeable quality of a cast and musicians, who sang, danced and played on regardless of wind and drenching rain.
And despite the disruptive elements, a perfect traditional operatic and sound balance was achieved by director Jonathan Whiting and a cast that was bursting with character and a range of gorgeous voices, very much enhanced by musical director Tristan Selden's richly talented orchestra.
Their sense of fun and support for each other, gave the production an effervescent feel that can sometimes be lost by over-rehearsal, but in this case, they put the whole thing together in just a couple of full-on living, working and playing weeks, using the church hall at nearby Paul village as their base.
Several present and past students return year-on-year to renew friendships and focus on the experience of working to a tight deadline.
Of course, it would have been down to James Ward as the Sgt of Police, with an astonishing depth and volume to a bass voice that reaches a long way down to his socks, to keep order if necessary, with his fellow Plods, but most will know that they are well timid, if hugely amusing.
Instead we are charmed by a dashing Robert Nicholas as the Pirate King, and pitch-perfect Max Noble as his apprentice, who pairs up with Tiffany Charnley, a Mabel in powder blue, who has a speaking and singing voice that sounds like a crystal bell.
The ebullient David Lawrence, with red lapels, was word-perfect and fantastically fast as the very model of a modern major-general, and Hope Whitehead, a nursery maid with age-related attitude, was very prettily backed by a chorus in pastels or pirate gear, dressed by Victoria Olphin with Anabelle Thomas.
Harry Burke took charge of the choreography, giving it both swagger, sword and parasol fights and a touch of the delightfully absurd, via his constabulary men, himself, Isaac Barkway and Lennie Wells.
With "sighing breezes" sung in the teeth of a gale on the opening night, sound designer Charlie Jonas achieved a totally pleasing balance.
It is wonderful to think that Gilbert and Sullivan made our Cornish pirates famous and put Penzance on the map when they took this daft tale that revolves around a leap year birthday and would-be orphans, to New York in 1879. It still entertains so many decades later.