We hope you enjoy this selection of photos, reviews and other memorabilia from our show archive.  If you want more information about any of our past shows, please feel free to get in touch.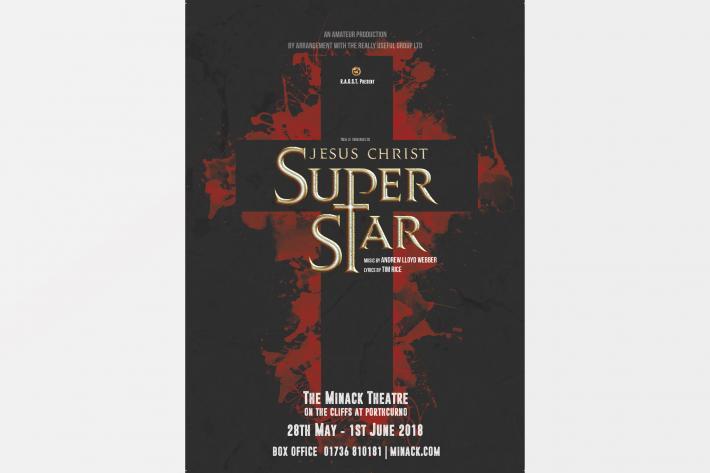 Review by Jenni Balow
Prepare yourself for a wave of all kinds of emotion in this visually stunning production that is a triumph for an amateur Cornish company from just down the road.
The commitment required of this big company of actors, musicians, designers and the back stage team is 100 per cent, and its achievement in presenting this rock opera is truly remarkable.
And on the sellout opening night, this show that just got better as it went on, was flooded with full moonlight for the moving finale – the heartbreaking sight of Jesus dying on the cross.
It's unlikely that readers do not know the synopsis, but just in case, the musical dialogue covers the last few days of the life of Jesus, as he enters Jerusalem with his 12 apostles – and is betrayed by one of them.
In 1970, Tim Rice and Andrew Lloyd Webber wrote their own take on the anguished relationship between Judas and Jesus, something that is not examined in the Bible.
The resulting album and the Broadway musical that quickly followed was pretty controversial at the time, and even now, the Crucifixion, which is preceded by an outrageously decadent scene at the court of a camp King Herod, can be hard to watch, although both were awesome in their own ways.
But there it is, and director and choreographer Helen Hartshorne, works with musical genius Alastair Taylor, to give it the full works, with an orchestra featuring the three guitars of Rick Martin, Glen Graham and Sian Kelly, and three keyboards played by Alastair, Jack Callow and Roger Wills.
Set designer and stage manager Michael Meer and his amazing team built seven crosses as a sobering backdrop, as well as the towering cross for the crucifixion, set on a high platform for maximum effect, with lighting by Seb Blaber.
The second act opens with the Last Supper, with an altar-like table covered in a pure white cloth, making a dramatic diagonal across the stone stage.
Roxanne Dash and Sarah Barker put together a huge number of costumes for the company, with angels with shimmering pleated wings, and dazzling gold and silver for the palace – giving Roland Bray the tiniest drapes to prance around in, as he steals the act singing King Herod's Song in Twenties flapper style.
But we must not be diverted from the serious side of the business because Jarrad Goldsworthy not only
looks the part but gives the role of Jesus the dignity it demands as he confronts the misguided Judas, played superbly by Paul Dash, who gives it his all.
Freya Sleeman sings movingly and beautifully as Mary Magdalene, along with Adam Nicholls as Pilate, aided and abetted by Nicholas Vale and Gareth Harris, who make a sinister crow-like trio clad in black robes.
This was a true family production, with many of the actors' children taking part, and a whole bunch of them also got together for a team building exercise, walking from their rehearsal base in Redruth to the Minack, raising £2,782 for Children's Hospice South West – as if they didn't have enough to do – they deserve a standing ovation, and they got it.