We hope you enjoy this selection of photos, reviews and other memorabilia from our show archive.  If you want more information about any of our past shows, please feel free to get in touch.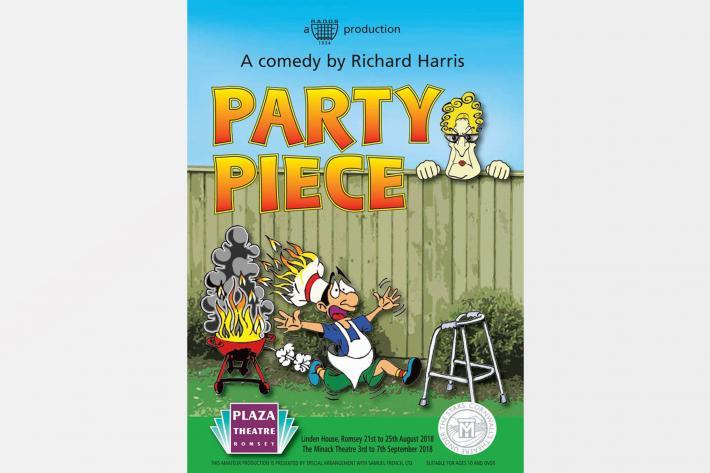 Review by Jenni Balow
A couple of decades ago when barbecuing was still a bit of a novelty, this light comedy about all the things that can go wrong with the delightful concept of throwing a party and cooking in the back garden on a summer evening, might have been pretty amusing, but nowadays it seems rather half baked.
So, it wasn't completely the fault of the energetic Romsey based group that the hilarity that was supposed to be generated by this play, often failed to be really funny.
Visually it was first rate, with a well thought out set designed by Laurence Wright and team, giving us two neighbouring suburban gardens, one impeccably painted and planted, the other, apparently just past its sell-by date, like its widowed owner, Mrs Hinson.
The script by Richard Harris, who has successfully written several comedies, notably Outside Edge, and a huge amount for television including The Sweeney, Shoestring and A Tough of Frost, tests even the best cast with his characterisation of fussy neighbour Dr Smethurst, who is in a tizz over his barbecue from the word go.
He simply doesn't come across as a plausible doctor – if he can't cook a few sausages without setting fire to the garden shed, who would want him making life or death decisions on their health? He is more than extremely irritating, but I suppose that is all part of the joke.
Anyway, there we have it, and it was surely the choice of play that did the RAODS no favours, although there were issues over hugging 'stage left' leaving one half of the Minack's superb arena almost entirely empty of action, and everything got over-shrill at times.
These observations may seem rather critical, but they are made by comparing this play to the many exceptionally fine productions seen at the Minack this season.
We have Matthew Ellison as the doctor and Jo Barnard as his run-around wife, who says she feels like a border collie under orders from Mr Nasty. They decide on "famous couples in reverse" for their fancy dress party theme. He is Ginger Rogers in pink tulle, wearing Marigold gloves and a pinny for the barbie.
So few guests turn up (why would that be!) that they can tuck into an allotted almost-unfrozen five pork chops and seven sausages each, washed down with wine of a dubious vintage – they'd "run out" of Bulgarian.
Steven Lilly plays the friend who rapidly and predictably drinks too much and gave me the best laugh of the evening when he toppled into a pond, twice, and Kerry Butcher is the over-the-top-go-getting other friend, who manages to get locked in the loo – it sounds rather hackneyed, doesn't it.
The most successful performers are Meriel Shepherd as Mrs Hinson, who can virtually sprint in her bobbled slippers, when she isn't limping around with her zimmer frame, Leighton Fort as her put-upon son David, and Georgette Ellison as her hapless, but secretly spirited daughter in law.
Director and sound designer was Nick Longland, assisted by Lyn Butcher, stage manager Helen Ford, costumes by Maggie Blake and Heather Whitham and special effects by Martin Whitaker and Arthur Smythe-Wright.
I blame it all on the choice of that ex-display, 75 per cent reduced-to-clear barbecue. This theatre group would have been better off without it.