We hope you enjoy this selection of photos, reviews and other memorabilia from our show archive.  If you want more information about any of our past shows, please feel free to get in touch.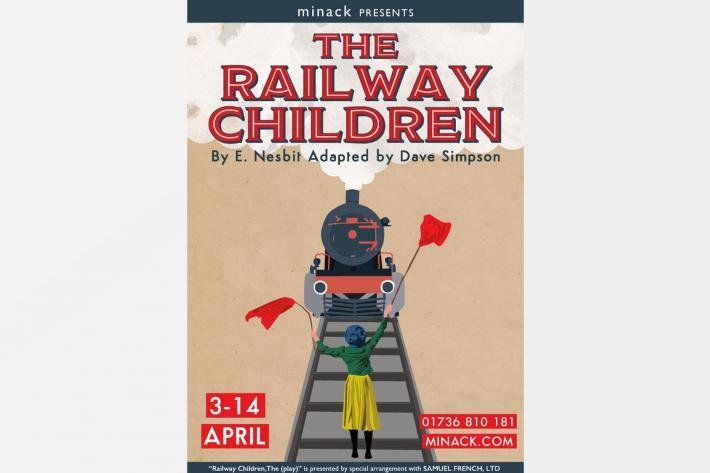 Review by Jenni Balow
I'll swear that the granite rock stage at The Minack shook as the London express roared through its Edwardian station, with whistles blowing and filling the air with great billowing puffs of dirty yellowy steam, thrilling hundreds of holidaying youngsters.
This production of The Railway Children, written more than 100 years ago by Edith Nesbit, is an all bells and whistles winner for the hugely talented Minack Company thanks not only to its cast of fine actors young and old, but very much to the design and sound and music that makes it so real.
For a start, designer Elroy Ashmore presents the kind of immaculately painted green and cream Great Western Railway station, with its signal and posters and pots of sunflowers, that is made of dreams.
And its picket fence links to Three Chimneys Cottage, where the heroes of the story live. The effective lighting design was by Simon Hutchings.
Ben Sutcliffe, best known as the front man with The People's String Foundation that has given good musical backing to many Minack productions, has come up with an exquisite score that is atmospheric, nostalgic, dramatic and touching at all the right moments, having created a string trio with Zaid Al-Rikabi, Annie Baylis-Gray and Kath Williams.
Producer Zoe Curnow and director John Brolly have tapped into a vein of mainly local talent that is as rich as the tin that was once mined from the cliffs close to this open air theatre.
It is Craig Johnson, appearing as the stationmaster, who narrates much of the story, and rallies his young troops, taking on the role with an infectious enthusiasm that wraps itself around the cast.
He is another regular, with his sell-out Squashbox Theatre puppet shows for children, always finding fun, thinking on his feet in any situation and looking out for them all.
This is a story about three children who fall on hard times when their Daddy is wrongly accused of spying and is jailed, but all are united by care and kindness to each other and everyone they meet, thanks to the example set by Mother, played with compassion by Rebecca Hulbert.
In this adaptation, they move from London to a Cornish village, where they meet the stationmaster's tribe of children, headed by Caleb Cross as John, the cheekiest and naughtiest, dressed with attitude in a tartan waistcoat by costume designer by Dean Horner, who rightly reckons they are "posh".
No wonder, young Peter (Luc Sykes) does have a habit of describing things as "spiffing" or "whizzo" in a lovely clear voice, alongside cute younger sister Phyllis (Marnie Cole) and capable and quick-thinking teenage sister Roberta (Millie Brolly).
They are all proudly word perfect along with the rest of the cast that is complemented by the inimitable Steve Jacobs as the Old Gentleman, who finds himself on a train that is hurtling into danger. Can it be stopped in time?
There are two young casts, but those I saw were Kingsley Thomas, Eva Brown, Harry and Byron Ladd-Carr, Izzy Golding and Resa Money, with Kyla Goodey as the stationmaster's wife and Jason Squibb as the Russian exile.
Was I talking about tin? These are all solid gold.