We hope you enjoy this selection of photos, reviews and other memorabilia from our show archive.  If you want more information about any of our past shows, please feel free to get in touch.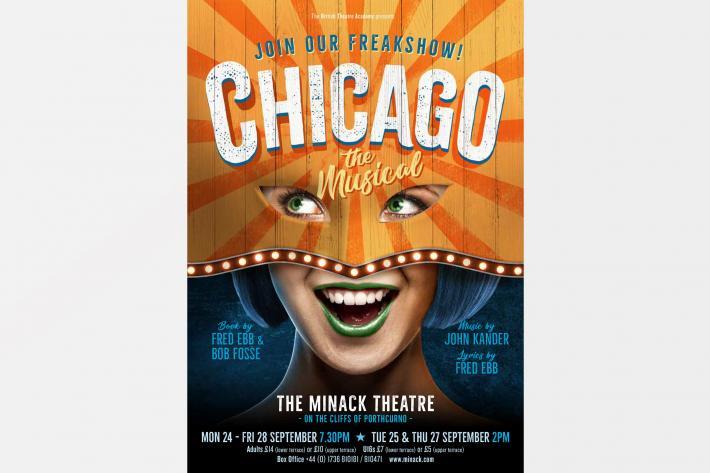 Review by Jenni Balow
You might want to call this I'm A Celebrity Killer, Get Me Out of Here! Instead, the show is named Chicago, and it is one of the longest running US musicals in theatre history.
It also might have been written especially for the British Theatre Academy, winner of last year's Minack Trophy for Gypsy, whose cast of professional and apprentice actors ooze talent.
The group first impressed five years ago, with a short run of the sleazy Smokey Joe's Cafe, a sparkling revue that has guaranteed many returns to the Minack.
Earlier this year, the academy scored another huge success when it worked with the Minack Youth Theatre to produce 13:The Musical, giving many youngsters an unforgettable stage rock experience.
Now they are back again with the kind of slick and super-polished show we have all come to expect, directed and choreographed by Matthew Chandler and Rachel Izen. And a full-blow orchestra is right there on stage led by dynamic musical director Martin Wilcox.
Otherwise, the stage is bare, but hey, who needs a set when you have a cast clad in black and white stripes (and a few stars) that takes us right back to the Chicago of the Twenties.
The costume design by Matty Chanzy is stunning, dotted with scarlet, perfect in pink with 'babies' in bibs, newsprint covered reporters, splashes of blue stripes too, and notably hitting the high notes, Jake Herbert playing female impersonator Mary Sunshine, in blonde wig and mink trim.
The true events that inspired this musical were recorded by US journalist Maurine Dallas Watkins, who wrote a play after attending a series of trials involving women who shot, stabbed, or otherwise removed the troublesome husbands and lovers who they claimed had treated them very badly. Lewis Ledlie, as Fred, was one of them.
Chicago's reluctance to hang young women for homicide, especially when they had an edgy appeal that won them fleeting headline celebrity in the newspapers of the day, made for good copy and Bob Fosse later had a hand in writing for the original show.
In this production they are spectacularly defended by preening "I'm only in it for the money" lawyer Billy Flynn (Philip Doyle) who loves himself as much as the publicity, and treats his clients like dummies, to the amusement of gesturing juror George Sesay.
The two principal slayers of their men are Roxie (Rebecca Leaves) and Velma (Charlotte Greenwood) as two dynamic dames who gel magnificently together to sing and dance, along with red hot Mama (Kristine Kruse).
The songs are very well known and include Mr Cellophane, sung sadly by 'invisible' humdrum husband Amos (Joe Edmunds). Velma is joined by Katie Charman, Francesca Barberis, Katy Stephens, Thea Butler and Hanna McKenna in Cell Block Tango, recalling how her man "ran into my knife 10 times"!
This team hardly needed a full moon to spotlight such smart drama – but it was there anyway.