We hope you enjoy this selection of photos, reviews and other memorabilia from our show archive.  If you want more information about any of our past shows, please feel free to get in touch.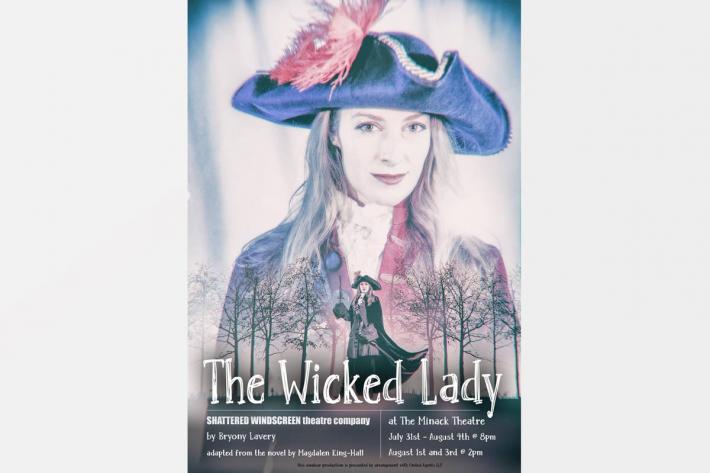 Review
by Jenni Balow
You might have known one or two wicked women, but this one is seriously bad, bad, bad and even disowned by one of the most notorious highwaymen of the 17th century -  because she's so scary.
But don't let that put you off, because this is a truly classy melodrama, mischievous, inventive, fast-moving and gorgeous to look at and listen to, despite that wicked, wicked woman.
She is played with relish and effortless athleticism by the dazzling Georgina Bennett, who portrays an aristocratic lady, with a snoring boring husband, who gambles away her family jewels, decides to disguise herself as a highwayman and jumps on a horse to grab them back.
Unfortunately, and hereby hangs the tale, she is stimulated by danger and her raiding missions continue until she encounters rival highwayman Jerry Jackson, played by the dashing and later deeply troubled Mark Haumann.
Then things begin to unravel still further when Hogarth (Danny Swanson) her house steward, begins to suspect that something is amiss . . . 
Alongside the main plot, the Minack's granite stage is rapidly transformed by a superb sequence of events  -  we have snow-blowers creating a 'blizzard' as two snowmen are created with carrot noses, hats, scarves and coal pompom buttons, then gently 'dissolving' as the scene shifts.
Our eyes take in a shimmering swan lake, with Tchaikovsky's music to match, and a glittering frosty ice rink where skaters glide to the Viennese Waltz, played by the aptly named No Rest For The Wicked Band that is on stage throughout.
Musical director Pete Dawson leads the way on cello, matching a huge range of music to the action, memorably including Pachelbel's Canon, and joined by Amy and Tom Dawson, Darren Barsby, Andy Howell, Gavin Palmer and Julia Ryan on everything from guitar to penny whistle.
A May Day festival features Morris Men waving outsize white handkerchiefs as they dance around a Maypole, and a collection of the cutest toy pigs, dogs, sheep and calves are assembled for Market Day.
The all-encompassing set designed by Steve Onyon, with gallows-ready ghostly white trees, windows that open and mirrors that move, brilliantly evokes the stylish contemporary feel that playwright Bryony Lavery gave to this melodrama when it was re-worked eight years ago.
Shattered Windscreen directors Jan Palmer Sayer and Chris Janes seized on the dynamic script "full of creative challenges" and the company team gleefully gallops along with it.
Speaking of which, the many horses heads needed for 17th century travel, have been exquisitely designed by Helen Coyston.
By contrast, sleek scooters skim over the stage and slick choreography by Sharon Jolly, with costumes by Penny Coyston, lighting by Ken Alford, Andrew Coystone on sound, and a scampering stage team carrying suitcases that convert into bar or bed, add a light and modern touch.
The rest of the cast including Hannah Leonard, Paul Morton, Tamsin Goodwin-Connelly, Gavin Palmer, James Harper, Josie Melton, Des Turner and Andy Howell all give tremendous support.
This story has come a long way since Margaret Lockwood wowed record numbers of cinema-goers back in 1945 as The Wicked Lady  -  it's a fantastic production, and it's still wicked.