We hope you enjoy this selection of photos, reviews and other memorabilia from our show archive.  If you want more information about any of our past shows, please feel free to get in touch.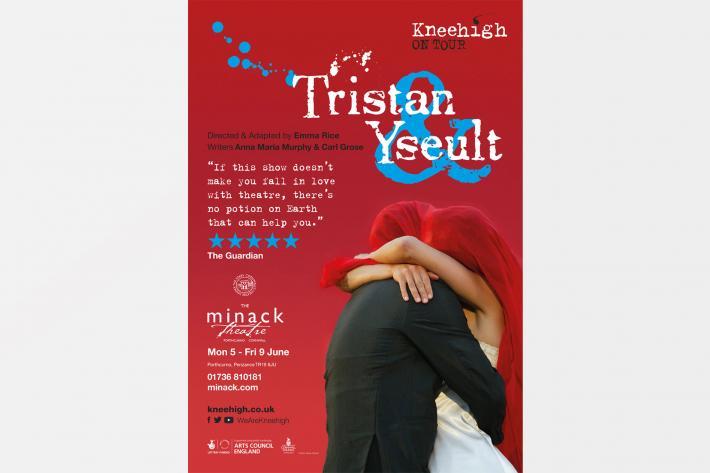 Review by Jenni Balow
Tristan and Yseult  -  this Celtic tale about two lovers and a king from the royal courts of Cornwall, Ireland and Brittany was written a heck of a long time ago, and we know it doesn't end well, so does anyone care  anymore?
Broadly speaking, that was Emma Rice's reaction to the suggestion by the very much missed former artistic director of Kneehigh, Bill Mitchell, way back in 2003 that she should make a play from a story that featured "dragons, healers and knights in shining armour". It initially failed to spark her imagination.
But she was persuaded to take it on, thinking that it might play for a few weeks in Cornwall and then they could all forget it!
Well, the rest is part of contemporary theatrical history, because everyone who watched that initial exuberantly funny and yet intensely moving production will never forget it  -  it made her reputation internationally, and she has gone on to become artistic director of The Globe Theatre in London.
The production has been revived and polished and has toured the world ever since and now it has returned to the Minack where audiences have witnessed a play that is spectacularly thrilling and chilling, funny and brutal, sometimes all in the space of a minute or two.
With its pulsating classical and rock music, remarkable circular deck with central mast and sails, and a cast that is exceptional in the truest sense of that word, it must rate as one of the best theatrical experiences.
Critics everywhere have given it ecstatic reviews, so this was a sellout event, but the weather in West Penwith played its own part during the week, with gales and inches of rain delaying the opening, and playing havoc with the stage rigging, as the sails billowed and the lovers found plenty of air beneath their feet as they were hoisted aloft.
Through it all, Stu Barker, composer and music director, kept his band together, with stacks of amps ensuring that the beat was heard above the storms and backdrop of crashing waves from a heavy swell. Yes, all part of the Minack experience and a dramatic addition to the action.
The actors sing and play too, and from the start, we are stirred by Wagner's prelude to Tristan and Isolde, sing along to Cilla Black's Anyone Who Had a Heart, and sob to Nick Cave's wrenchingly sad Sweetheart Come to Me, and much besides.
Kneehigh's veteran artistic director Mike Shepherd is King Mark, immaculate as the bridegroom-in-waiting in a well cut suit, ready to forgive when he realises that the beautiful but wounded Tristan (Dominic Marsh) has 'found' the healing and sensuous Yseult (Hannah Vassallo) ahead of him.
It is her thoroughly Irish maid Brangian (Niall Ashdown) who is so, so funny and who also makes us so, so sad as her wedding night stand-in, only to have the lively snap-hipped Kyle Lima, come up with the unwanted proof of the situation as the papparazza who is finds an above-deck view of the entwined lovers.
Kirsty Woodward is brilliant as the play's 'narrator' Whitehands, neat in her gloves and pillbox hat. This was the role originally created and played by Emma Rice.
All have several roles backed by the Unloved, a team sensibly clad in woolly balaclavas and mackintoshes, with eyes protected against the elements by square framed glasses, and all equipped with binoculars (good for spotting the cliffs of Cornwall and the occasional dolphin, as they sail across the sea from Ireland).
The whole cast is willing to be tossed and catapulted from the deck onto an impossibly narrow spongy landing zone, but their safe passage is assured by a slick production unit headed by Aled William Thomas with Samantha Mallinson.
You might never see better than this, follow it on its tour to The Globe and beyond, if you missed it.
Cast & Creatives
Brangian              Niall Ashdown
Musician              Stu Barker 
Love Spotter       Omari Douglas
Love Spotter       Tom Jackson-Greaves
Frocin                  Kyla Lima
Tristan                 Dominic Marsh
Musician             Pat Moran
Musician             Justin Radford
King Mark           Mike Shepherd
Yseult                  Hannah Vassallo
Musician             Elizabeth Westcott
Whitehands        Kirsty Woodward
        
Adaptor/Director               Emma Rice
Composer/MD)                  Stu Barker
Writer                                 Carl Grose
Writer                                 Anna Maria Murphy
Designer                            Bill Mitchell
Lighting Design                Malcolm Rippeth
Sound Design                   Simon Baker
Choreographer                 Etta Murfitt
Choreographer                 Tom Jackson-Greaves