We hope you enjoy this selection of photos, reviews and other memorabilia from our show archive.  If you want more information about any of our past shows, please feel free to get in touch.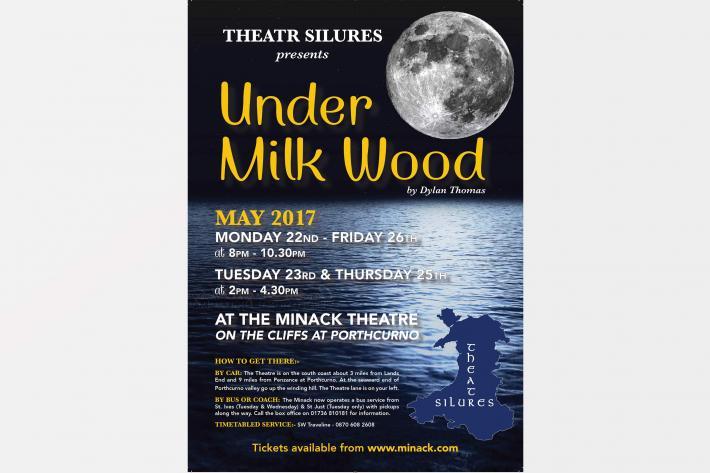 Review by Jenni Balow
Beside the fishingboat-bobbing sea this proudly Welsh company that names itself after a fierce tribe of early Celts, presents the kind of loud, bawdy, uninhibited production that would surely have won at least a grudging nod of approval from its irascible creator.
This was the only play written by poet Dylan Thomas. It took him ages and was reputedly finished just in time for a reading in New York in 1953, after his latest lover locked him in a room and forced him to put pen to paper.
Sadly, as he was in America, he never heard the play read by a full cast of Welsh voices, because a month later he died from alcoholic poisoning at the age of just 39 years.
It was another year before the richly Celtic tones of his young drinking mate, Richard Burton, gave the never to be forgotten radio production its full resonance – and fame.
By the way, Thomas and his beloved Caitlin were married in Penzance in 1937, at the second attempt, after getting drunk on the way to the Register Office and failing to arrive the first time. They honeymooned at the former Lobster Pot in Mousehole harbour.
Five of the cast of six from Theatr Silures return to the Minack after a gap of several years, and touring success, to bring us their reading of Under Milk Wood, with the assured new Voice of Graham Bryant.
The hands of a stage clock tick through 24 hours, giving us a behind-closed-doors insight into the lives and loves, dreams, gossip, fantasies and tragedies that grip the small community, "a hill of windows" in the Welsh village of Llareggub – the name is fictitious, just read it backwards and you get the picture, but Thomas based the characters on those he knew.
And so we listen, time passes and "dawn inches up" to bring us a Spring morning "larked and crowed" and the town smells of "seaweed and breakfast" and we are immersed in the Welshness of it all.
The close-knit team led by producer Jude Lewis and director Adrian Bevan, share the roles of more than 40 characters, along with Pete Morgan, Sarah Jayne Hopkins and John Weldon. The presentation is robust, all are colourfully demonstrative and they bounce the words of Thomas around the stage with total confidence.
For the rest, it's as simple as a row of chairs, and a handful of props, with Samantha Jones as stage manager, and lighting and evocative sound by Lauren Brown. Ballads, ditties, school nursery rhymes and hymns are added to the cracking pace.
See the blind Captain Cat, with a fearful tremor in his arm, after a life "sardined with women"  and observe the gleaming pink rubber gloves of the obsessive Mrs Ogmore Pritchard "who polishes her potatoes" and the nagging Mrs Pugh sits silent over "cold grey cottage pie" as her husband plots how to mix "venomous porridge" and "cringes awake" at her call.
Dylan Thomas asked us to listen …….thank you Theatr Silures for making it such a pleasure, once again.