Based on the film 'Dirty Rotten Scoundrels' written by Dale Launer, Stanley Shapiro and Paul Henning.
We hope you enjoy this selection of photos, reviews and other memorabilia from our show archive.  If you want more information about any of our past shows, please feel free to get in touch.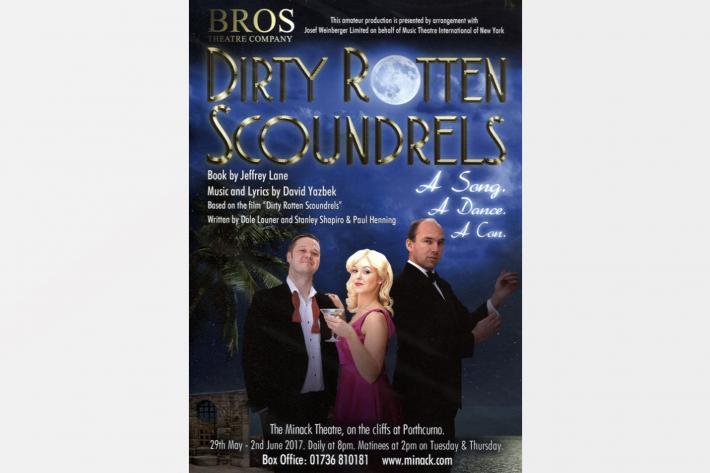 Review by Jenni Balow
The song, 'Give Them What They Want – And Leave Them Wanting More', is the best advice that a mister smoothie English conman can give to an untamed American upstart, who is itching to cash in on the rich pickings to be had in the south of France.
Under undulating palm trees, it sets the tone for an all-singing and dancing romp as the two try to outdo one another by smoozing the wealthy women, who are seen as easily flattered into parting with their money on the flower filled terraces of the Riviera.
The Dirty Rotten Rascals are the urbane Lawrence (Jason Thomas) and Freddy (John Paul Sutherland) who arrives on the scene in a Hawaiian shirt and literally flings himself into the role as the best fleecer in France, exclaiming "I wanna be like Trump". Ha, ha.
Lawrence sets the challenge to be first to extract $50,000 from an unsuspecting victim. The loser will have to get out of town.
So off they go, but of course there is something the scoundrels need to know about, and that is the presence of a rival to their fortunes who is known as The Jackal, and who may have its day ahead of them, so they'd better watch out.
What began as a film nearly 30 years ago, has been revised as a musical several times in the last decade, and can best be described as an easy watch. The script and lyrics are schmaltzy to say the least, so you might just as well sit back and relax, and cheer on the bad guys.
That said, Minack regulars the BROS Theatre Company of very talented amateurs from South West London, who were supported as always by celebrity gardener and author Alan Titchmarsh and friends, know how to put on a wow of a show – do you remember 'Mack and Mabel' and 'Carousel'? I do.
They have a great creative team who have made many returns to the Minack, this time directed by Nigel Cole, with Nic Luker as musical director and a lively band conducted by Martin Wilcox, with their usual large and colourful ensemble choreographed by Gita Singham-Willis.
Production and technical manager is Wesley Henderson Roe, and Lizzy Ross and the costume team dazzle with a truly amazing number of stylish changes to add real pizzazz to this show, signing-off with a shimmering line-up in harlequin silk shifts.
The ladies who look likely to be rooked on the Riviera are superbly headed by Sarah Jamieson as Christine and Louise Ellard Turnbull as Muriel, but it is the gun-toting gal from Oklahoma, Heather Stockwell as Jolene who steals it as the princess of petroleum.
Laden with designer bags, she's busy "buying up France – but don't tell Daddy".
Finally, Alexander McKinven as minder Andre, gives us plenty of French expressionism as he spies on the opposition, in drag.
What a dirty, rotten way to have fun.