We hope you enjoy this selection of photos, reviews and other memorabilia from our show archive.  If you want more information about any of our past shows, please feel free to get in touch.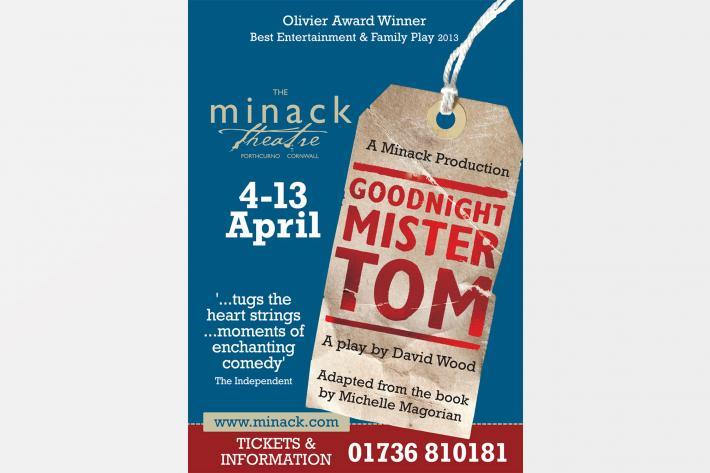 Review by Jenni Balow
We knew it would be good, with Penzance's own brilliant actor Steve Jacobs perfectly cast in the starring role as Mister Tom, but we couldn't know how well the rest would work with him.
Within a day or two, the news had spread – this was very, very good – and with a fine settled spell of weather to match, more than 7,000 tickets were sold for this early season production.
What made it even better, was that this was the Minack's own – with professional Cornish actors working with youngsters who successfully auditioned for the Youth Theatre, founded one year ago by producer Zoe Curnow.
And out of that has come a story within a story, because young star Luca Partridge, 11, gathered confidence and momentum under the wing of Steve Jacobs, and played the part of South London wartime evacuee William Beech at every performance.
The rest of the young cast were split into two shifts and I was lucky enough to watch the effervescent Byron Ladd-Carr fizz around the stage as his show-off school pal Zach, surely another star in the making, alongside Caleb Cross as the bullying and chanting "silly city Willie" George, who proved to be a sensitive lad at heart.
This is an exciting moment for the Minack, with a talented and creative team that is ready for a challenge and is headed by director John Brolly with musical director and composer Ben Sutcliffe playing touchingly and beautifully during the play's tragic moments, alongside Zaid Al-Rikabi, Annie Baylis-Gray and Zoe Curnow.
And then there was the dog with the waggly tail – Sammy, a puppet would you believe – who woofed and scampered and sympathised in the way that dogs do, skillfully almost-controlled by Jenny Beare and Mary Woodvine.
He was based on real-life Border Collie Frugal from St Buryan and put together by Jill Wilson and Alice King. Jill also thought up a very effective set, as always. It was lit by Simon Hutchings and the wartime costumes were collected by Dean Horner, who sourced a super-striped jumper for the "walking rainbow" that was Zach.
The story was adapted for the stage by David Wood, based on the novel published in 1981 by Michelle Magorian, and became an award winning film starring John Thaw as Mister Tom, nearly two decades later.
It follows the journey taken by William into the safety of the countryside from his Deptford home, both as an evacuee and a boy covered in bruises from the beatings by his disturbed, desperate and delusional mother, played by another of the Duchy's finest actors, Mary Woodvine.
He is billetted with Tom Oakley, who has lived alone for too many years, since the deaths of his beloved wife and infant son, and slowly both discover that together they will find friendship and love and learn to laugh again – but not before some nightmare events after William plaintively sings Wish Me Luck As You Wave Me Goodbye.
The Minack Youth Theatre ensemble gave it their all in a series of the songs originally sung by Vera Lynn, who celebrated her 100th birthday last month.
Zach gave us a new word to describe this production – delumptious – both scrumptious and delicious. This is one Mister you won't want to miss!