We hope you enjoy this selection of photos, reviews and other memorabilia from our show archive.  If you want more information about any of our past shows, please feel free to get in touch.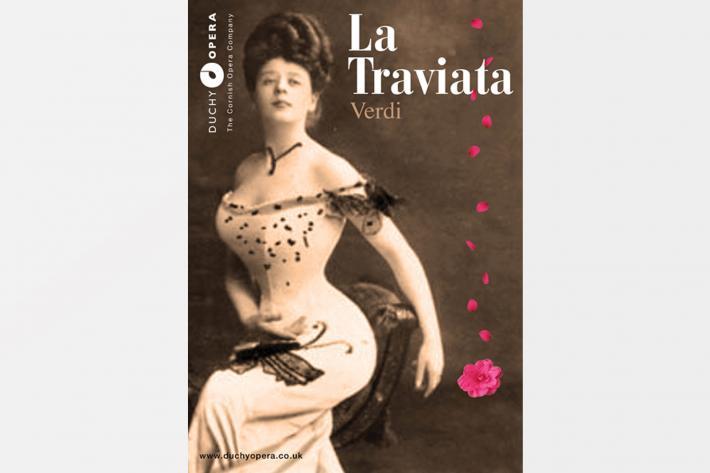 Review by Jenni Balow
If only good time girl Violetta and her earnest young lover had met today, all might have been well, but as it all happened in an age when Queen Victoria was advised not to attend a performance of La Traviata because it was not considered morally suitable, this was never going to be a good match.
The storyline, based on a novel by Alexander Dumas, which had been inspired by the true story of a beautiful young prostitute who died from tuberculosis in her early twenties, sparked the composition of the most wonderful arias, duets and melodies by Verdi.
The violins wail in the final act and as their musical strings are plucked, so are our heartstrings in this overwhelmingly sad tale that has become the world's most watched opera of all time.
So, it is just a question of how that story will be portrayed, and in this case the Duchy Opera gives it a thoroughly traditional treatment under the sure direction of Penzance's own Richard Jackson.
Diamonds glitter at the throats of the bourgeois women of Parisian society in the 1850's, who are 
sumptuously arrayed in satin gowns and courted by impeccably clad partners as the champagne flows, and all eyes are on the well known courtesan Violetta, and Alfredo, a man from a 'respectable' family, who clearly adores her.
What was that about the course of true love not running smooth? This one is fated from the start.
One of the main problems is that Alfredo's father feels he cannot allow the affair to continue because of the repercussions it will have on his Establishment family, quite apart from the fact that Violetta is already ill with tuberculosis, which killed a quarter of the population in Europe at that time.
We are accustomed to the Duchy Opera's consistent high quality, well-rehearsed and clearly-heard productions under the musical direction of Paul Drayton, with a fine orchestra at their core, and this is no exception.
The incredibly demanding role of Violetta is shared at the Minack by Cheryl Brendish and Alinka Kozari.
It was soprano Cheryl's turn on the opening night and she gave a sparkling high-energy performance.
Her duets with the veteran John Hobbs as Alfredo's father were beautifully balanced and moving. His realisation that Violetta is not all bad, was especially well expressed and sensitive.
Arthur Swan was a solid and convincing Alfredo, and the cast includes a lively chorus of 22, and is complemented by the appearance of Jesse Giuliani, an Italian who is freelancing in Cornwall, Ian Kinver as the Baron, youngsters Rebekah Scamp, 19, from Falmouth as a charming Flora and Robin Brown as the Marquis, with Sue Lancaster as Anina and Bruce Cross as Gaston.
The Duchy Opera goes from strength to strength  -  we should be very proud of them all.