We hope you enjoy this selection of photos, reviews and other memorabilia from our show archive.  If you want more information about any of our past shows, please feel free to get in touch.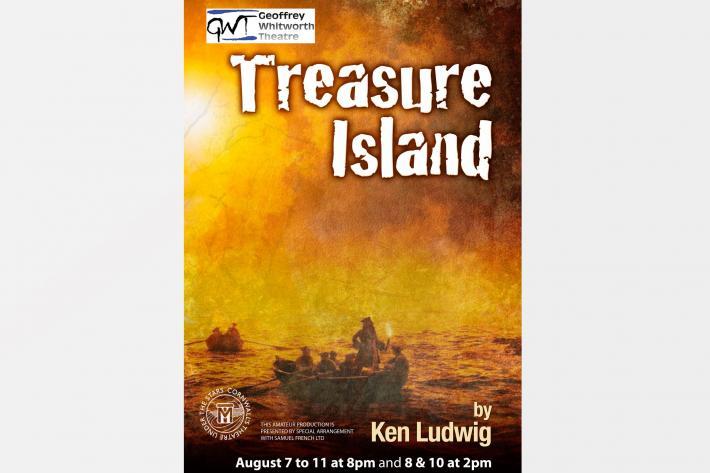 Review
by Jenni Balow
Pirates shouting aaaargh, aaaargh, in a very Cornish way, are swarming all over the cliffs at the Minack this week, so all of you young adventurers had better look out.
There's still a fortnight to go, before Penzance attempts to break the record for the biggest gathering of pirates in the world, so the swashbuckling adventure of Treasure Island is a fine warm-up.
The skull and crossbones flag is flying over the stage as a bunch of seafaring gentlemen meet at the Admiral Benbow Inn, and yes there is a pub of that name in Chapel Street, Penzance, with its own 17th century smugglers tunnel.
This is 1775 and Jim Hawkins the landlord's teenage son soon find himself at the centre of the action. Skullduggery is afoot and pirates are fighting in the bar, when a treasure map is thrust into his hand, and before he knows it, he is setting off from the Bristol Docks, recruited as cabin boy aboard the good ship Hispaniola.
Actually, it is not that good because one Long John Silver is leading a mutiny before too long, and pistols are firing and knives are drawn, as Jim tries to survive long enough to discover the haul of treasure "with rubies as red as blood and more gold than a king has".
Stevenson, who made his name with this gripping yarn, reckoned this was a boys own adventure, but I can remember wanting to run away to sea the minute I read it as a 10 year old, so it's good to see some spirited women pirates among the motley crew, with their skirts hitched and ready for a share of the booty.
This is a sellout cracking show for the school holidays, and it is very sad that director Alan Goodwin is not here to share in its success.
He died two months after directing the company at its home base in Kent in December, and the Minack production has been dedicated to his memory, having been brought to Cornwall by his friend and production assistant Julia Kemp.
The story is narrated by Glen Chute, appearing as the adult Hawkins, with Millie Holland sharp and ready as young Jim, who encounters a motley crew headed by the robust and growling Marston York as Long John Silver, "a seafaring man with one leg, a friend to no living creature" and therefore minus a parrot on his shoulder.
We need no convincing about the ill-intent of the well cast pirates with wonderful names including Brian Kemp as Billy Bones, Steve Hunt as Capt Flint, Dave as Merry and William Webster as Bland, Sarah Tortell as Israel Hands, Eileen Warner as Bonny, Dominic Clarke as Hazard, Ben Newton as Calico Jack, Keith Dunn as O'Brien with Alice Higginson as Justice Death, Mike as Blind Pew and Harry as Rathbone.
In this dark company, Dave Oatley gives us a splendidly dotty cameo as Ben Gunn, the pirate who is desperate for a piece of cheese, after being marooned alone on the treasure island for three long years.
Ross Holland is the squire, Nigel Taylor the captain and Michael Martin the doctor. Paula Palmer sings sweetly as Jim's mother. 
A merry group of instrumentalists led by musical director Rob Mitchell sound authentic, with an entertaining selection of music and rousing shanties.
Peter Basley's set design, with a ship's wheel at its centre, is simple and effective, with lighting by Colin Goldberg, frightening fights orchestrated by Peter Nicholson and loud, smoking pyros by Cyrus Shroff and Tim Seaton.
Just watch out for those pirates!