We hope you enjoy this selection of photos, reviews and other memorabilia from our show archive.  If you want more information about any of our past shows, please feel free to get in touch.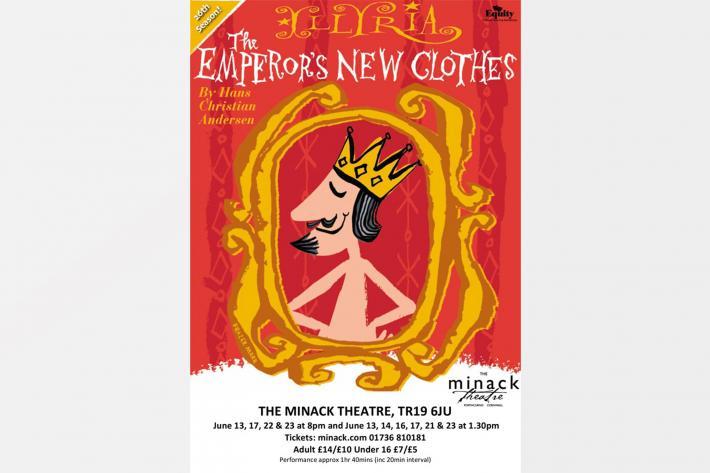 Review by Jenni Balow
West Cornwall's very own open air touring theatre company knows exactly how to wind-up its audiences, both young and old, after a century in the business, and altogether there is no question that this is pure fun - with a remarkable contemporary twist.
It's loosely a story about a silly Emperor spending a king's ransom on his clothes, before he gets his comeuppance at the hands of a couple of conmen who know how to weave and spin a trick or two.
Director Oliver Gray has deftly adapted the tale written by Hans Christian Andersen, and in this time of perplexing political and global events, it is bang on song.
He writes in the programme: "If among the chuckles, the play provokes just one young person to question nonsense coming from authority, then I shall feel I've done my job.''
It is a curiously prescient comment, as the cast of five energetic young actors includes a Prime Minister who asks "how far are you willing to go to save your skin?"
A newspaper entitled Fake News is sold on stage and the Prime Minister concedes that a magic silk that is being created for the Emperor, "beggars description". Well done, Mr Gray.
Sorry, I am getting too serious because this is, after all, primarily a show that will thoroughly entertain children, so forgive the adult cynics including me, who laughed wryly in the wrong places.
Illyria is staging two shows at the Minack during schools' fortnight, and has put most of its resources into staging a very fine Pride and Prejudice, also directed by the tireless Mr Gray.
So, although this production wins many gold stars from its young audiences, it would not be fair to rate it as highly as the Austen play, or the four very exceptional productions that have already been seen at the Minack this season.
The cast includes two actors who are making a super debut with Illyria, the notably bass-voiced Nathan Smith with a most 'orrible rumbling laugh as one of the villains, and Callum Stewart who is simply great fun as the Captain of the Guards, especially when cavorting around the stage on the frilly horse named Rosie, and as a squawking Battle Axe Empress.
They are joined by the ebullient Rachel O'Hare, Frank Teale and Bethany-Jo Clews, and all multi-task, singing, dancing and playing anything from kettle drums to quivering cymbals.
The colourful set is designed by Jill Wilson, with costumes and props by Pat Farmer, Dean Horner, Janet Caddick and Alice King, who created the resplendent Rosie.
Just remember that Emperor when you next say you have nothing to wear.