As the nights draw in, come and share with us an evening / afternoon of Dark Stories under the Autumnal skies.
Captivating music, mischievous comedy, and striking acrobatics and dance.
For your delectation, Krill have gathered together some of Cornwall's finest artistic gems for a variety style series of short acts. The artists have reflected on the highs and lows of lock down to bring you an evening of bitter sweet, playful and insightful chapters.
The show will include new choreography by Robert Mennear, original music by Ben Sutcliffe and story telling by Sharon Andrews, to name but a few.
Dive in to the darker side and share the stories with us.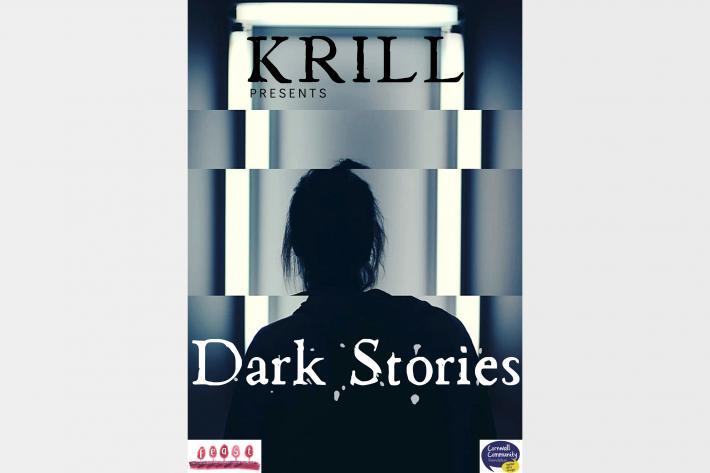 Krill is a project supported by FEAST, that asks - can we be more like Krill?
Bec Applebee, Suzie West and Robert Mennear have been working together during lockdown to support local artists and bring people together safely. They have been asking the following questions while producing bespoke performances for Cornwall.
Can we develop a performance programme that expands and contracts depending on the climate and resources available?
Can we develop our ability to swim against the tide and make innovative solutions to the problems in access, isolation and funding that Covid -19 is causing?
Can we engage the public as a joined up community or shoal?
 Can we respond listen carefully to what they have to say and how they move in their open air landscapes, being sensitive to the risky and safer waters?
Can we collectively shine a light into the dark and offer some light entertainment and joy to families that celebrates their community spirit?
For your comfort and safety
All performances will run without an interval. 
All our performances will be relaxed.  If you do leave your seat during the performance, we ask you to cover your face as you may briefly pass near to other audience members.
Minack padded seats will not be available to hire for performances, but you are welcome to bring your own cushion.