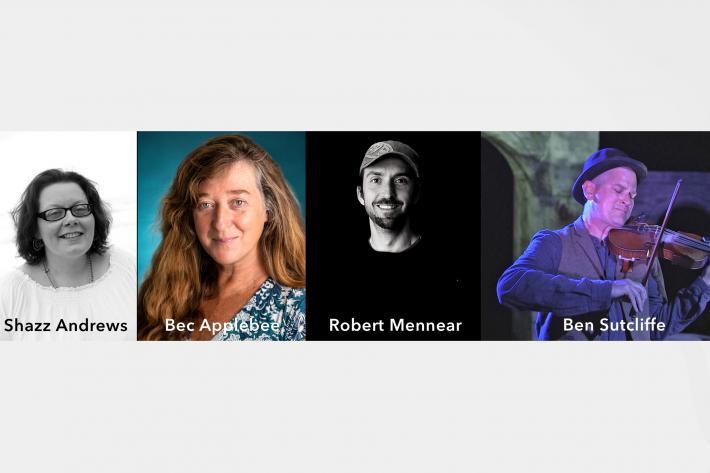 As the nights draw in, come and share with us an evening / afternoon of Dark Stories under the Autumnal skies.
For your delectation, Krill have gathered together some of Cornwall's finest artistic gems for a variety style series of short acts. The artists have reflected on the highs and lows of lock down to bring you an evening of bitter sweet, playful and insightful chapters.
Dive in to the darker side and let our tale-spinners lead you among the shades of night with captivating music, mischievous comedy and striking acrobatics and dance.
Bec Applebee
What happened to you in lockdown? Did you lose work? Home school? Wear your pyjamas all day? Let your hair grow? Eat cake, drink and binge watch box sets? Bec attempts to host Dark Stories as the ravages of lock down take their toll…
Aaron Marshall  
Hand standing act using one bespoke made chair and a set of furniture to set the 1920 scene.  Exploring forms of social isolation. With a focal point of symbolism and imagery centred around a unique french arm chair. Using elements of circus performance to physicalise a message.
Shazz Andrews
Three stories inspired by the feelings of being trapped isolated and alone, Shazz will perform a series of poems from writers like Nick Darke and Maya Angelou amongst others.
Rob Mennear & Gil Ratcliffe with technician Martin Fenton
G L A S S is a new creation of work by Rob Mennear (artistic director of GRIT) supported by Peninsula Dance Partnership.  Working in collaboration with performer Gil Ratcliffe and lighting designer Martin Fenton, G L A S S portrays an ambiguous insight into the fractured perspective of an individual's struggles through lockdown.
Ben Sutcliffe
Ben Sutcliffe is a theatre MD and has worked at the Minack Theatre on eight productions. He is Violinist and Artistic Director for the People's String Foundation which has travelled internationally for fifteen years.  His dark moods for this performance are from a project by GRIT dance called "When Angels Blink" about male isolation.  This is his second project with the Krill ensemble and he looks forward to many more.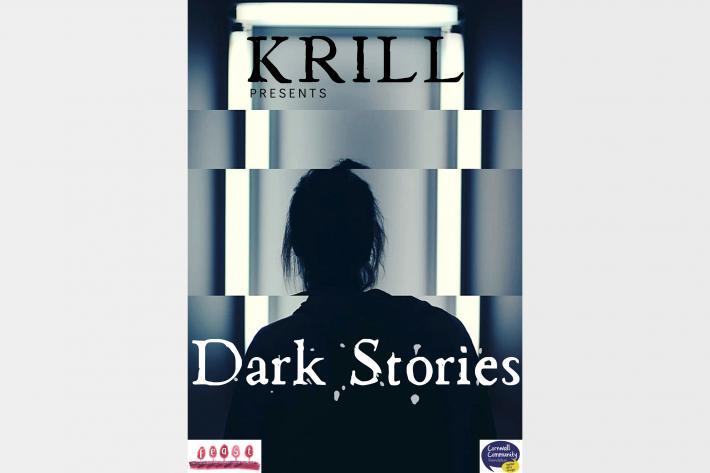 Krill is a project supported by FEAST, that asks - can we be more like Krill?
Bec Applebee, Suzie West and Robert Mennear have been working together during lockdown to support local artists and bring people together safely. They have been asking the following questions while producing bespoke performances for Cornwall.
Can we develop a performance programme that expands and contracts depending on the climate and resources available?
Can we develop our ability to swim against the tide and make innovative solutions to the problems in access, isolation and funding that Covid -19 is causing?
Can we engage the public as a joined up community or shoal?
 Can we respond listen carefully to what they have to say and how they move in their open air landscapes, being sensitive to the risky and safer waters?
Can we collectively shine a light into the dark and offer some light entertainment and joy to families that celebrates their community spirit?
Review by Jenni Balow
The pain, the pleasure and the screaming abdabs of an enforced pandemic lockdown and its isolating repercussions spilled onto the stage at the Minack as creative Cornish co-operative Krill, combined its talents to give a live entertainment.
The snapshot of ideas and acts was mesmerisingly engulfed by the searing and soulful solos of violin viruoso Ben Sutcliffe, composer and artistic director of the People's String Foundation, which has been involved with eight superb musical productions at the theatre in recent years.
He put on a performance packed with emotion, striking sombre, lamenting notes for this group of actors who have struggled with cancelled tours and no place to express their creativity, swimming against the virus tide.
It was a hodge podge of a show that notably including acrobat Aaron Marshall using just one hand atop an elegant French armchair, to strike perilous acrobatic poses - thank heaven the wind wasn't blowing too hard.
His desperate hand stands, charged by many imaginary glasses of wine, were partnered by a recorded narrative surely sparked by interminable nights of lockdown ..."I was never good at parties...the meaningless conversation ... so pleased to see you ..." - yes, climbing the walls, the screaming abdabs of isolation, call it what you will.
This was a cue for the multi-talented Bec Applebee to shuffle onto the stage wearing slippers and jimjams, to the fading sounds of Coro, always finding fun, popping on a bucket as a Covid mask.
She introduced Shazz Andrews, who gave us a mix of poetic metaphors via Maya Angelou - "all alone, hearts of stone" and the stream of consciousness that is The Lobster by the incomparable Nick Darke.
He is the monarch of the deep, the supreme crustacean who, "500 years since our creation is still unable to resist temptation" and is landed on to a dinner plate.
Rob Mennear of the GRIT dance company, in partnership with Gil Ratcliffe and lighting technician Martin Fenton, presented an angst-packed new creation by GLASS supported by the Peninsula Dance Partnership, illuminated by edgy columns of piercing light.
It expressed the anxieties of this strange situation  -  contrasting with the beautiful freedom to enjoy live acting in the open air.