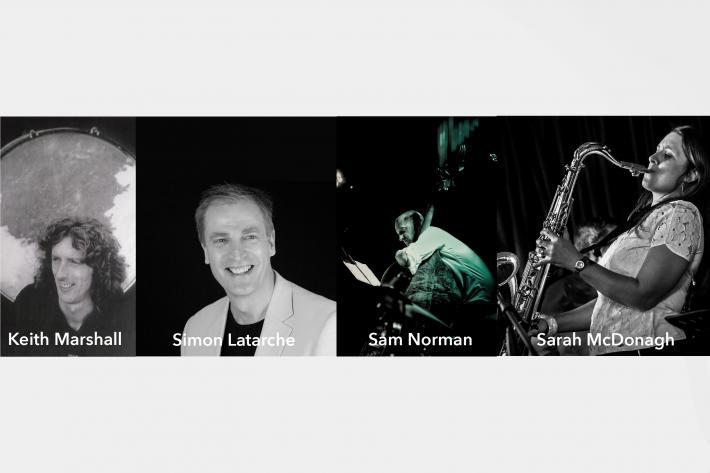 Sarah McDonagh     Sax and Flute
Simon Latarche        Piano
Sam Norman            Double Bass
Keith Marshall          Drums
Following the recent success of Cornish Preludes Book II and performances throughout the South West of England, Truro based pianist Simon Latarche makes a rare appearance with his quartet, featuring the versatile Sarah McDonagh on sax and flute. This highly respected group of local musicians will be playing a mixture of original compositions by the individual members of the ensemble.
"The Simon Latarche Quartet delighted a capacity audience at the first of our concerts at Lost Gardens of Heligan in January. Mixing excellent originals by pianist Simon Latarche and saxophonist/flautist  Sarah McDonagh with a few well known standards - the quartet demonstrated their remarkable individual skills with a rock solid unity of purpose. Percussionist Keith Marshall and bassist Sam Norman, a formidable rhythm section, also shone on some inventive solos. The SLQ is certainly at the forefront of contemporary jazz ensembles in Cornwall, offering a special evening of accessible and rewarding jazz."  Phil Webb / St Austell Bay Jazz 
Latarche's compositions are a near perfect combination of lyricism and improvisation and the ensemble provides finely knit support to Latarche's considerable talents as a pianist.  Karl Ackermann, AllAboutJazz.com
Cornish Preludes is available at www.simonlatarche.co.uk and also on iTunes. Read a full review of the latest album.
Review by Jenni Balow
Jazz standard 'Misty' might have been an apt choice for the Simon Latarche Quartet to play during their gig on this grey moisture-drenched June evening, but they shrugged-off the dismal weather with a selection of their own superb music, to lift the mood sky high.
And the star of the show was Helston's own Sarah McDonagh, whose confident sassy style of playing many of her own lively compositions on tenor and alto sax and flute, was an inspiration.
She was invited by Truro's pianist and composer Simon, to join bassist Sam Norman, who came to Falmouth via Los Angeles, and "doctor rhythm himself" Keith Marshall from Sticker, and the contemporary jazz combination was flawless.
Bravely wearing a gorgeous sleeveless floaty frock and high silver heels to match the nightclub mood, Sarah took us through a range of her tunes, notably the gospel influenced Chapel Song, with an impressive, slow grandeur.
She was great on lively rhythm too, playing a flighty flute for I Want To Dance  -  and we wanted to do just that, especially during Sarah's Shiny Shuffle.
Simon, who is the smoothest keyboard player, making it look effortless, has been busy composing new work too, using Lockdown to look forward with optimism to Re-awakening and Forging A New Path, to add to his recorded repertoire that includes his beautiful Cornish Preludes albums.
The quartet also played The Lady of Dozmary Pool, which was mood perfect for the mist that shrouded the Minack.
A Splash of Cobalt Blue featured Sam's funky virtuosity on bass guitar, and Keith took a bow after a thrilling drum solo, when the set ended with Summer Evening Moon.
It was an evening that had a shine to it, after all.
Simon Latarche Quartet Biographies
Simon Latarche
Simon's work has been heavily influenced by the thirty years he has lived and taught in Cornwall, covering themes as diverse as the eclipse of 1999 and the embarkation of American troops to Omaha Beach in 1944, but also draws on his early years, bringing the tradition of the Preludes of Bach and Chopin to Jazz styles. He performs regularly as a soloist and with numerous ensembles throughout the West Country and has gained an international reputation as a pianist and composer
Sarah McDonagh
A regular member of the Simon Latarche Jazz Ensemble, Sarah studied jazz and classical saxophone at the Guildhall School of Music and Drama whilst there studied under Martin Hathaway, Stan Sulzman and Jean Toussaint and has gone on to perform with jazz legends Randy Brecker, Kenny Wheeler and Tim Garland to name a few!!
Before returning to her native Cornwall Sarah played in a number of high profile function bands travelling to Hong Kong and Dubai for corporate functions for Orange, also appearing on the same bill as Frankie goes to Hollywood, Steven Gately and Kid Creole.
Sam Norman
Back now in his native Cornwall, Sam Norman studied Upright and Electric bass at LA Music Academy under Kevin Axt . Sam has performed in a jazz trio with Brad Rabuchin (Ray Charles, Tom Jones) providing entertainment for Weddings, Corporate events, restaurants etc, around the city of Los Angeles. He has also played in a Hawaiian band (Pumana) which performs at large festivals in and out of L.A and is well established within this community.
Keith Marshall
Drummer Keith Marshall has been active on the music scene since 1978, in the U.K and Europe. Drum Tutor at 'Music Technology' St. Austell for ten years, he also runs ' Hands On' Drumming workshops around the County.