Our priority is to ensure the wellbeing of all our staff and visitors.  Some parts of our service have been altered to help you feel safe and comfortable.  You may find you are queueing longer than usual and we ask you to be patient and to help us by respecting social distancing. 
Single groups should not contain more than six people, or two households, if this is larger. 
In accordance with Track and Trace rules, we are required to record the contact details of every adult member of your party when you visit the Minack or attend a performance.  When you arrive, we'll ask you to scan the track and trace app at the theatre entrance.  If you don't have the app, you'll need to give your name and phone number.  This information will not be used for any purpose other than the government's Track and Trace programme.  After 21 days, it will be destroyed.  
We recommend the wearing of face coverings when moving around the theatre, using our toilet facilities and on entering and leaving the premises.  For more information on how COVID will affect your visit, please see our Got a question? page.
Moving Heaven & Earth
Look out for actor Mark Harandon, who recreates the character of Rowena Cade's gardener, Billy Rawlings, and shares stories of working with Miss Cade and how the Minack was built.  
Moving Heaven & Earth happens on most Tuesdays, Thursdays and Saturdays at 10.30am, 11.30am and 12.30pm.  If you want to be sure of catching Billy - please contact the Box Office.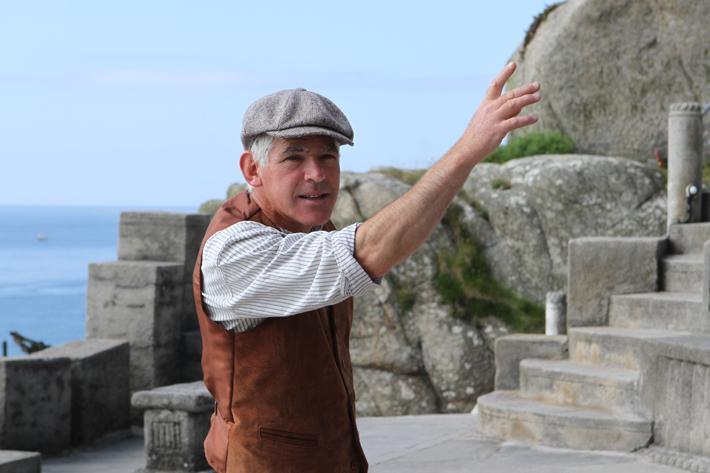 How your visit may be different this year
What is open?  
The theatre auditorium, backstage walkway and the gardens are all open to the public.  The Rowena Cade Exhibition is also open (this is an indoor space where social distancing will apply).  Light refreshments will be available to take away from the Terrace Coffee Shop and the Shack in the car park and there will be a small selection of gifts and plants for sale near the entrance.  The theatre toilets will also be open.
What will not be available?
Our main gift shop and café are currently closed. 
Book a guided tour
New in 2021 we are offering guided tours of the theatre.  Each tour group will be limited in size and headsets will be provided to enable social distancing.  There are several different tours to choose from, check them out on our Tours page.
You Must Book in Advance 
To help us keep you safe and enable social distancing, you must book a time slot for your visit in advance. You can book online or by phone (see below for our box office hours).
If you are a few minutes late arriving, don't worry, you can be admitted to the theatre within 30 minutes after the time on your ticket.  (If you arrive outside this time interval we cannot guarantee admittance.)
Once inside the theatre you are welcome to spend as long here as you like – but do check our closing times, as there are performances on some days which mean we will close early.
On Arrival
Parking will be available for you from 10 minutes before your selected arrival time.  We ask you not to arrive earlier, as our carpark is often very busy and you may not be able to park before your allotted time.  When you arrive, you will be met in the carpark by one of our staff who will check your admission ticket and direct you to a parking space.  If you have not purchased an admission ticket in advance, you are not guaranteed admission to the carpark.  Please note that the tarmac carpark is only available for disabled badge holders.  All other visitors will be asked to park on the grass carpark. (Parking is for the duration of your visit.  We request that you remove your car from the car park immediately after your visit, to enable us to accommodate other visitors.)
Entrance 
The main entrance to the theatre is in the south west corner of the tarmac car park.  You may have to queue for admission to the theatre. Social distancing signage and designated queueing routes are in place.  You will need to show your admission ticket at the entrance to the theatre.  
Visitors needing step-free access should make this clear when booking tickets and they will be directed to this entrance on arrival. 
In the theatre
You are requested to respect social distancing within the theatre and you may find that some paths are designated 'one way' to enable people to move safely around the space.   
Food and drink
Hot and cold drinks, ice creams, homemade cakes, cream teas, pasties and light snacks are available as takeaway items from the Terrace inside the theatre.  Our indoor café is closed.   
Toilets
The toilets inside the theatre are available to our visitors but our public toilet in the car park is closed. We ask visitors to use the hand sanitiser provided and wear face coverings, if possible, while in the toilet building.
Gift shop
Our indoor gift shop is not open, but we are selling a limited range of items at the entrance to the theatre.  You will not be able to handle the goods, other than plants, before purchase, but our friendly staff will help you to make your choices. 
Making payments
We ask all visitors to respect our cashless and paperless system.  
Got a question?
You will find answers to a lot of frequently asked questions here.  If you need further information, please call our box office.  
The box office is open 10am - 4pm daily (and until 7.30pm when there is an evening performance).
01736 810181
Access
If you have special Access requirements, visit our Accessibility page or contact us with your questions.
We are meeting the Industry Standard for following government and industry COVID-19 guidelines, having a Risk Assessment in place and a process to maintain cleanliness and aid social distancing