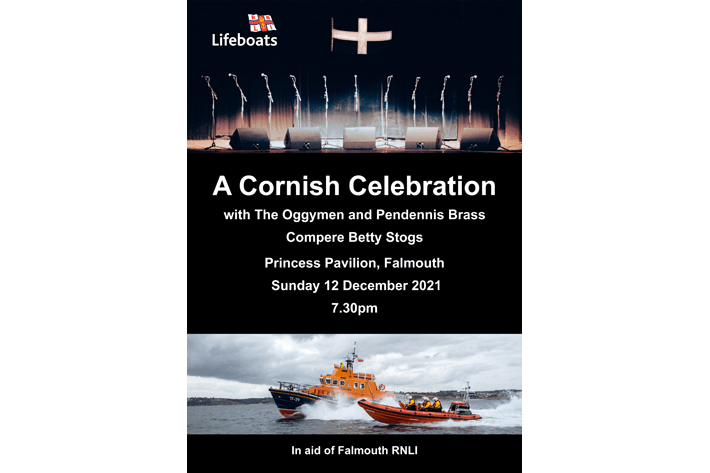 Well-known Cornish Dame Compere and fundraiser Betty Stogs leads a fun evening of music and singing celebrating Cornwall and the Cornish way of life, with all male folk music choir, The Oggyman and Pendennis Brass.  The evening will end with a sing-along of well-known songs decided by the performers.
The Oggymen
'For over a decade, The Oggymen have championed contemporary Cornish folk music and celebrated those precious songs that bind us to our landscape, to our community and to our past. In recent years our horizons have become hidden, our sense of place has never felt so important. At their home town of Falmouth, join The Oggymen to hear their acclaimed arrangements of the songs that have been sung in communities of Cornish people past and present. Their wide repertoire ranges from trade union songs appropriated by Cornish miners in the 1980's, to those songs sung at Falmouth Working Boat regattas and Cornish pilot gig races within recent memory. The concert will also feature tracks from their critically acclaimed fourth album, 'How It Belongs to Be'.'
Pendennis Brass 
'Pendennis Brass was formed by Glyn Thomas, a former Royal Marine Musician, in 1980.  We have been entertaining audiences in and around the area ever since. The band have also provided free music tuition and inspiration for local people, both young and old, with many youngsters who learned brass or percussion with Pendennis Brass going on to pursue careers in music. This includes our new Musical Director, Ben Elliott, who played with the band in his youth, leaving in 2014 for a career in the Royal Marines Band Service. Still a member of the Royal Marines, he is bringing back experience and enthusiasm to nurture the next generation of musicians. We are always welcoming new members to our organisation, so please feel free to get in contact with us if you are interested in getting involved.'
Compere: Betty Stogs
Betty Stogs, EVERYONE'S favourite dame from Skinners Brewery is based on a Cornishwoman from the county's folklore. Betty Stogs was bought to life in 1997, played by Fred Thomas.  Over the years she has becoming a mascot for Cornwall's incredible community spirit, and thanks to Fred's tireless work she has also become a prolific fundraiser. For many years Betty has appeared — larger than life and forever shaking that donations bucket — at countless charity events, raising hundreds of thousands of pounds for local good causes including the RNLI and Children's Hospice South West.