Admission to the site is by advance booking of a specific time slot.
Facilities are limited during this challenging time. The shop and cafe will not be open, but takeaway catering is available and we are selling gifts from a temporary facility in the car park.
The site includes lots of steep steps.  There is access for wheelchairs and disabled visitors to the top levels, toilets and a balcony with great views over the theatre and the bay.  Due to the terrain, there is no disabled access to the stage or the lower levels of the auditorium.  See our Accessibility page for more information.
The Minack is built on a granite cliffside, sloping steeply down to the sea, and looking out over Porthcurno Bay towards craggy headlands and the Lizard peninsula on the horizon.  The theatre faces South East across the mouth of the English Channel, an area rich with wildlife and a wonderful place to experience the wild beauty of the Cornish coast. 
The Minack is a working theatre and there is often something happening on stage even when there isn't a  performance.  You will often be able to watch a workshop or a rehearsal in progress, or you may see a set being built for the next production.
When there is nothing on, you can explore the open air theatre itself, stand on the stage (even declaim a bit if you wish!), investigate the backstage paths and gaze down into the watery depths of the narrow 'zawn' almost under your feet.  Enjoy our beautiful subtropical gardens and admire the extraordinary carvings around the theatre, all etched by Rowena Cade using only a rusty screwdriver.  Raise your eyes from the theatre and look out to sea, where the waves surge around the Logan Rock and the gannets dive from heady heights into the foam.  You may be lucky enough to spot a seal bobbing around the rocks, or a school of dolphins making their way down channel.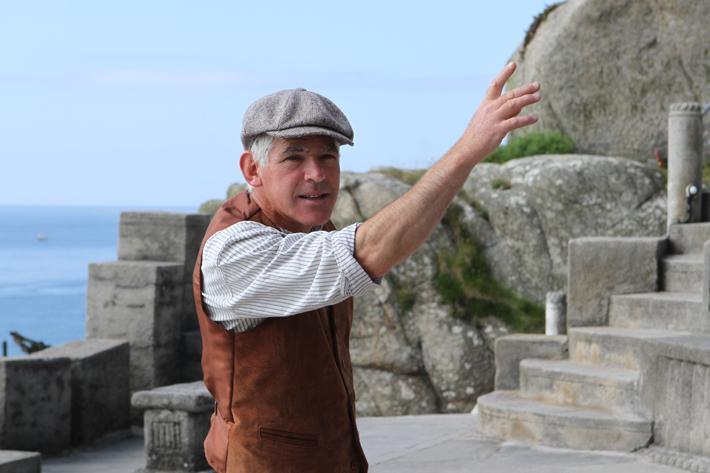 Moving Heaven and Earth
Look out for actor Mark Harandon, who recreates the character of Rowena Cade's gardener, Billy Rawlings, and shares stories of working with Miss Cade and how the Minack was built.  
Moving Heaven & Earth happens on Saturdays, Tuesdays & Thursdays at 10.30am, 11.30am and 12.30pm.  If you want to be sure of catching Billy - please contact the Box Office.
Eat, drink, shop!
The theatre cafe and gift shop are currently closed, but you can still purchase food and drink from our takeaway outlets in the theatre.  There is also a selection of gifts and souvenirs  on sale at the entrance to the theatre.